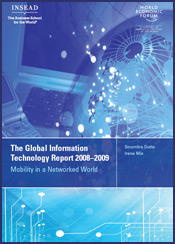 I am extrapolating a list of 10 most IT-ready African countries from The Global Technology Report 2008-2009 (a PDF document). The Report stresses the importance of ICT as a catalyst for growth in the current global turmoil and it underlines that good education fundamentals and high levels of technological readiness and innovation are essential engines of growth needed to overcome the current economic crisis. Under the theme "Mobility in a Networked World", this year's Report places a particular focus on the relationship and interrelations between mobility and ICT.
With record coverage of 134 economies worldwide, the Report remains the world's most comprehensive and authoritative international assessment of the impact of ICT on the development process and the competitiveness of nations.
The Report is produced by the World Economic Forum in cooperation with INSEAD, the leading international business school, and is sponsored by Cisco Systems.
| | | | |
| --- | --- | --- | --- |
| Africa | 2008-2009 rank | Country/Economy | Score |
| 1. | 38 | Tunisia | 4.34 |
| 2. | 51 | Mauritius | 4.07 |
| 3. | 52 | South Africa | 4.07 |
| 4. | 76 | Egypt | 3.76 |
| 5. | 77 | Botswana | 3.72 |
| 6. | 80 | Senegal | 3.67 |
| 7. | 86 | Morocco | 3.59 |
| 8. | 90 | Nigeria | 3.45 |
| 9. | 91 | Gambia, The | 3.44 |
| 10. | 92 | Namibia | 3.44 |