This article essentially seeks to review two contrasting Nokia phones, with the view of highlighting the major attributes of both devices respectively.
Many mobile phones attempt to do everything from simple texting, to GPS navigation but these phones are better at some things than the others thus the need to classify them. Before now, I had used an i-mate JAQ3 Windows 5 powered-smartphone for business, along with a Nokia 3250 XpressMusic for photography and personal entertainment whilst on the move. I have since upgraded to Nokia E71 smartphone along with a Nokia 5800 XpressMusic.
What makes the E71 tick?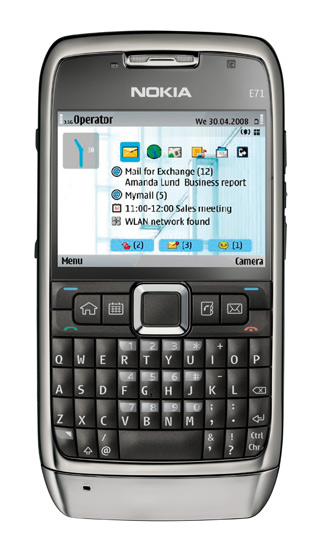 Many. The Nokia E71 is a serious business phone ground-up. It comes with a full QWERTY keyboard layout and is enclosed in a strong metallic case. My initial disappointment about the E71 not having a touch screen was quickly dwarfed by its intuitive cursor and comfortable keypad. I find the keypad so comfortable that I find myself sending text messages more often. Matter of fact, I typed the entire text for this article on the Nokia E71.
The smartphone comes with QuickOffice. This mobile version of Office suite software allows you to create or open Word documents, PowerPoint Presentations or Excel Worksheets.
It also comes with a built-in mobile email client and you can also opt for Nokia Email software (Blackberry-like) if the in-built email client does not meet all your email needs. You can send new messages via good-old SMS or MMS.
Being a 3.5G phone, you can access the Internet via 3.5G, 3G, EDGE, or GPRS – subject to network availability. You can also make/receive video calls where there is 3G coverage. The Nokia E71 is capable of handling encrypted G-standard wifi networks.
The call quality on this phone is good enough but my problem is that it fails to detect MTN Ghana's 3.5G network where there is coverage but my Nokia 5800 detects the same network. The standard earpiece leaves much to be desired and I have since abandoned it. I was able to download and install an Internet radio application on the phone and I listen to Indian melodies by connecting to Indian Internet radio stations through wifi.
Nokia 5800 XpressMusic keeps you entertained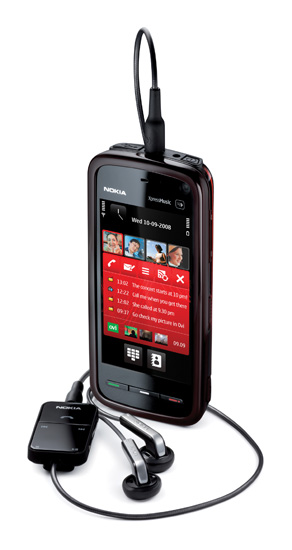 The 5800 is one of the latest in the Nokia XpressMusic series of multimedia devices. XpressMusic is a brand name for series of Nokia phones that are specifically designed for music playback.
True to form, the Nokia 5800 handles music extremely well. It can play digital audio clips encoded in AAC, AU, M4A, MIDI Tones, MP3, MP4, RealAudio, WAV, and WMA among others. It has graphic equalizer, bass boster and stereo widening. It has in-built stereo speakers and a 3.5mm headphones connector. This enables you to connect any headphones of your choice. The default earpiece is abridged and this allows me to occasionally carry the phone in my breast pocket and have the pair of earpieces in my ear lopes without some long cable dangling around my neck. The cable can be extended. The extended version comes with a music controller for playing/pausing as well as forward/rewind buttons.
The wide screen of the phone is used judiciously as video playback is always horizontal. I can switch between wide-screen format and the original dimension of the video. The only drawback is that the in-built RealMedia player is unable to handle popular video formats like WMV, MOV and MPEG. It however plays mobile video formats like MP4 and 3GP. I reckon video format conversion is possible via the Nokia Ovi software but I am yet to try that out.
Equipped with Carl Zeiss lens, the 5800's camera shines in the area of photography. With a 3.2 mega-pixels capability, I couldn't ask for more from a mobile device. The photo and video quality are on the high side.
The phone's massive 8GB Micro SD card (upgradeable to 16GB) gives lots of room for storing audio, video, photos, messages and other files. The phone can even be used as a mass storage device when connected to a computer.
Nokia has demonstrated times without number that it deserves the tag of being the market leader in the area of manufacturing mobile phones. The E71 and 5800 XpressMusic are further proof.