World's number 1 social networking website Facebook last week launched a very light version of their popular platform, for people in low-bandwidth situations who still need to connect to Facebook without opting for the mobile phone versions. Facebook Lite is truly light.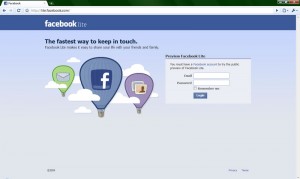 Announced in August 2009, Facebook Lite is optimized for users on slower or intermittent internet connections. It offers fewer services, excludes most third-party applications, and requires much less bandwidth.
I was forced to try it out yesterday morning since my Internet connectivity suddenly became very slow. Surprisingly, Facebook Lite loaded quickly on the very slow connection whilst other websites too forever. I am wondering if Facebook was also using some form of international content delivery network for the Lite version, in addition to stripping off the bells & whistles.
Facebook Lite would be ideal for most African countries since bandwidth is not only expensive here, but connectivity speed can get painfully slow and intermitent sometimes.
When next you are stuck with a poor connection and still need to share information with your fans, friends and family on Facebook, you know where to head: http://lite.facebook.com
Feel free to share your experience and observations of the new version of Facebook.com