In Ghana today, most Internet users rely on traditional Internet Service Providers (ISPs) and Internet cafes, and few bother about Internet on mobiles.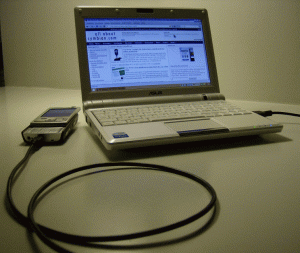 Long before mobile phones became popular in Ghana, fixed lines offered by the national operator Vodafone Ghana (then known as Ghana Telecom) and to a limited extent WESTEL, were widespread among businesses, government offices, organizations and private homes of the elite. When Vodafone introduced dial-up internet and later broadband using ADSL technology, it was a natural progression for most to simply continue relying on Vodafone for connectivity. In Ghana today, most still rely on Vodafone despite the wide range of other options. Matter of fact, most ISPs rely on Vodafone for Internet bandwidth. This is because a certain submarine cable (SAT3) offers super-fast Internet connectivity, at very competitive rates, as compared to connectivity via satellite (VSAT). Most ISPs thus find it economical and technically sensible to route their International traffic via the SAT3 system. The downside is that Vodafone retains exclusivity over that submarine cable and therefore any technical problems from Vodafone directly related to that cable affects all ISPs relying on them for international network connectivity. It thus turns out that majority of the populace rely on Vodafone directly and indirectly, for international bandwidth.
Having created this background, I will explain what is happening as I type this. My main means of Internet connectivity has been down for about 24 hours now. My ISP relies on Vodafone for international connectivity. I have reliable information that Vodafone customers are still able to connect to the internet, albeit at very slow speeds. I am thus forced to switch to MTN and Zain. I have always used MTN for connecting to the Internet, when I am away from my base, or on the move. One might then wonder, why not simply switch to MTN permanently? Cost is the deterring factor. Mobile internet is usually expensive, in this part of the world and that pushes it to the background as backup. It plays that role excellently.
At this point, it is necessary to point out that the main cellular operators MTN, Tigo, Zain have their own international gateway for voice and data traffic and as such do not rely on Vodafone. Thus, downtimes from Vodafone do not usually affect the mobile operators and vice versa.
The following factors make mobile networks viable backups for Internet connectivity:
No monthly fees
What makes mobile internet unusable as the main means of Internet connectivity is what makes it perfect as a backup. Their pay-as-you-go model ensures that users only pay when they connect. There are no monthly fees nor connection fees.
Hardware ubiquity
Mobile phones that come embedded with at least GPRS modems are now mainstream. Users thus do not have to invest in additional hardware but simply need to connect their mobile device to their computer, install the necessary connectivity software and they can connect to the Internet within minutes.
Speed
With the right network and equipment, users can achieve speeds that Vodafone cannot offer to end users at this time. MTN and Zain offer theoretical speeds of at least 3.6 Mbits/s since their respective networks use 3.5G (HSDPA) technology in Accra, Tema and Kumasi. In addition to being within 3.5G coverage area, a user needs a 3.5G compatible mobile equipment (handset or data card) to be able to experience the high speed. Where there is no 3.5G coverage, the connection automatically switches to 3G, EDGE or GPRS, in that order. The lower technologies offer much lower speed with GPRS connectivity speed being comparable to the old dial-up system.
3.5G is still relatively new in Ghana, and as such, coverage is still being expanded into other parts of Ghana. Tigo and Vodafone have already contracted their respective network upgrades to their hardware partners.
Be aware
It is important to note that data rates on mobile networks in Ghana are relatively high. It is thus necessary to watch your data usage and limit your use to essential web activities. Also, some of the cellular networks do offer monthly bundled packages in addition to the pay-as-you-go pricing.