Before reading, I assume you already have a Multi TV subscription or intend to do so and that you have read my earlier blog posts on Multi TV. Else, you should read Multi TV Ghana, a new free digital satellite TV and Early review of Multi TV + Satellite information before reading this post.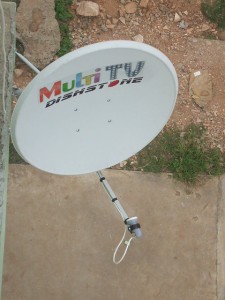 The principle is very simple. Multi TV signals reach your decoder from a satellite called Astra 2B, located at 28.2°E. Multi Tv is not the only broadcaster on that satellite. There are a few others. Following the steps enumerated below, you would be tweaking your Multi TV decoder to recognize those other signals so you can enjoy the other broadcasts.
To start: You need a fully installed Multi TV system.
Press MENU on your MultiTV remote control
Select INSTALLATION
Select EDIT SATELLITE
Click on the Yellow button to "Add" a new satellite. A new dialog box should appear titled "Add Satellite".
Fill the "Add Satellite" box using the information below and then select YES:

Satellite: Astra 2B
Longitude: 101 E
Frequency: 12572
Symbol Rate: 2854
Polarization: V (Press the Right button to change the polarization from H to V)

Astra 2B should now appear in the list of Satellites under the EDIT SATELLITE menu. Select Astra 2B and press OK.
Under EDIT TRANSPONDER, Press the Yellow button and enter the follow values on step at a time:
Frequency       Symbol Rate          Polarization
12572                   2854                         V
12599                   3250                         V
12729                   2725                         V
Press Exit twice.
Press Menu > Installation > Install Satellite > Green Button (Scan)
You should now see 13 TV and 9 Radio stations. That's it!
In addition to the 10 TV and 7 Radio channels from Multi TV, the following are available when you follow the steps above.
GTV (Ghana TV): the state-owned broadcaster that offers general programming including news, sports, music, movies,  and more.
CRTV: a Christian-themed TV station that offers news, documentaries, movies and more
LTM TV: A Cameroonian TV station that offers news & entertainment in both English and French.
Uniiq (FM) Accra: A radio service offered by state-owned Ghana Broadcasting Corporation (GBC). It features news, entertainment, government propaganda and more.
Royal Radio: A Christian-themed radio service offering general Christian programming, especially music.
Should you have any questions, simply post them in the comments area. Happy viewing…