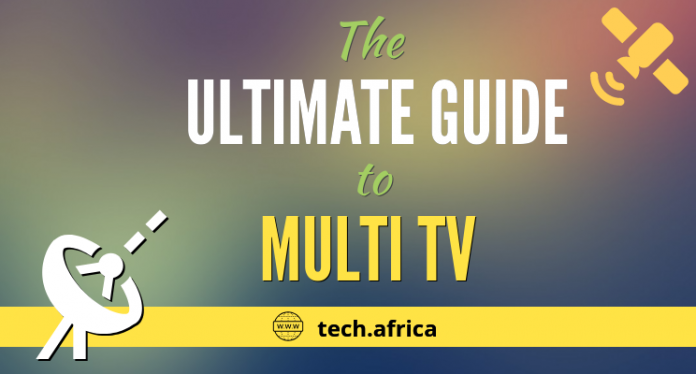 Multi TV is a free-to-air satellite broadcast service in Ghana.
It started a TV revolution in Ghana in July 2009, offering free satellite TV broadcast to Ghana, and over 25 other African countries with most being in West Africa.
Coverage
The countries covered fully and partially are:
Ghana
Benin Republic
Togo
Ghana
Cote d'Ivoire
Liberia
Sierra Leone
Guinea
Guinea-Bissau
The Gambia
Senegal
Mali
Niger
Nigeria
Chad
Cameroon
Sao Tome & Principe
Central African Republic
Equatorial Guinea
Gabon
Democratic Republic of Congo
Angola
Zambia
Zimbabwe
Malawi
Mozambique
Tanzania
Kenya
Uganda
As of January 2020, the active TV and radio channels on Multi TV are listed below.
TV Channels on Multi TV
Joy Prime
Adom TV
Joy News
DW English
Fire TV (Ghana)
Rock TV (Ghana)
Sweet TV
OB TV
Pent TV
TVT
Aseda TV
Ghana TV
Pan African TV
Cross TV
TV3 (Ghana)
ZTV Ghana
Fire TV 2
Precious TV
Royal TV (Ghana)
Kessben TV
Angel TV (Ghana)
Elijah TV
TV Xyz
Rhema TV (Ghana)
Radio Channels on Multi TV
Joy 99.7 FM
Asempa 94.7 FM
Luv 99.5 FM
Adom 106.3 FM
Hitz 103.9 FM
Nhyira 104.5 FM
Peace 104.3 FM
Citi FM
Atlantis Radio
Kessben FM
Angel 96.1 FM
New Mercury 91.5 FM
Fox 97.9 FM
Radio Lomé
Radio Kara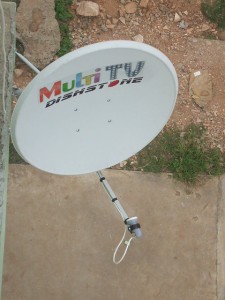 How to add more Channels to Multi TV
Multi TV signals reach your decoder from a satellite called Astra 2B, located at 28.2°E. Multi TV is not the only broadcaster on that satellite. There are a few others. You can add new parameters to your satellite receiver to recognize those other signals so you can enjoy the other broadcasts.
To start: You need a fully installed Multi TV system. Depending on your receiver model, enter the details below for more channels.
| | | | | |
| --- | --- | --- | --- | --- |
| | Frequency | Polarization | Symbol Rate | |
| Multi TV | 12525 | Vertical | 30000 | Ghanaian. 23 TV and 13 Radio channels. |
| WAP TV | 11595 | Vertical | 30000 | Ghanaian. 26 TV and 2 Radio Channels. Mostly Christian channels. |
| SES | 11635 | Vertical | 30000 | |
| SES | 11675 | Horizontal | 30000 | |
| Play TV | 12565 | Horizontal | 30000 | Nigerian. Premium service. Includes 2 free-to-view channels. |
| One TV | 12605 | Vertical | 30000 | Ghanaian. Includes One HD channel. |
In principle, any MPEG4 capable satellite receiver would work with Multi TV. The following have been confirmed to work:
Most recent Strong satellite receivers
Somotex ash box decoder
Strong SRT 4330
QC-XPLUS Series II/QC-XPLUS Series IV/QC 001 CD CAS
Somotex MTV-1722
Somotex MTV-9800J
SRT 4920/4922/4922A/4922D+
SRT 4950/SRT 4950H/4950E/4950M
How to re-scan Multi TV digibox
You can re-scan the digibox to enjoy new channels where no new frequencies are required. To re-scan:
Press Menu on your Multi TV remote control
Select Installation
Select Install satellite and press OK
Press the green button on the remote control
Your Digibox will start the scan automatically and find all those great Television and radio channels
How to install Multi TV in Lagos Nigeria
I got the following question from a reader of this website via email, and choose to answer publicly so as to assist others in need of the same information:
Please do you have anybody or office in Lagos that I can get Multi TV dish and decoder, and the Technician that can install it for me. Or any dealer in Lagos, plz help.
Considering Multi TV is a Ghanaian operation, I am not aware of any officially accredited installers in Nigeria. Since Multi TV is free-to-air and I have noticed them promoting satellite receivers that are not branded Multi TV, I would go ahead and offer you a do-it-yourself route. More so, I assume they are aiming to make money from TV adverts on their network, not necessarily from the sale of Multi TV satellite receivers.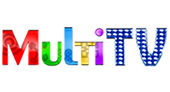 Multi TV is not licensed to operate in Nigeria. Not by NBC nor by NCC. Their satellite signal only happens to cover much of West, Central, and parts of Eastern Africa. Thus, you won't find many Multi TV decoders on sale in Nigeria, except for a few that some individuals bring in from Ghana.
Any 60cm or 90cm satellite dish would do. The brand on the dish is just a label. Any dish of the 60cm or 90cm diameter will work just fine. Next, you need a satellite receiver that is capable of handling MPEG-4 signals. The MPEG-4 bit is very critical. MPEG-4 is a modern video/audio format Multi TV uses in transmitting their digital signals. Most of the recent Strong digital satellite receivers can handle MPEG-4 gracefully. If you happen to find a Multi TV branded receiver, that's even better. I was found these items in Game store at Palms Mall, Lekki. You might want to check with them considering you're assured of quality.
You can buy the dish and satellite receiver yourself. There are hundreds of outlets in Lagos offering these. The classified sections of the major daily newspapers is a good place to start. You might also find installers offering their services in the Classifieds. If you trust the installer enough, you can have him procure the dish and receiver for you.
Any installer worth his/her salt would have the Multi TV satellite parameters.
Is UTV available on Multi TV?
United Television (UTV) is a free-to-watch TV service by The Despite Group of Companies, owners of the popular Akan-speaking Peace 102.7 FM. UTV is not available on Multi TV, as of January 2020.
It is available on DStv Channel 360 (in Ghana) as well as StarSat. You can also access UTV for free on Badr 7, SES 4 and SES 5 satellites.