The Starlink satellite broadband project is now accepting signups for service updates and notifications from all over the world. As Starlink gears up for a public beta launch, it is planning to notify you of coverage in your area once you leave your email, zip code and country name.
What is Starlink?
Starlink is a project by SpaceX that involves the design, launch and operation of a constellation of small satellites intended to bring affordable, super-fast (up to 1 Gbps) and low-latency (as low as 30 ms) internet connectivity to virtually any corner of the globe.
Starlink refers to both the $36 Billion Dollar project and the service itself.
Why?
SpaceX intends to provide reliable internet connectivity to the underserved regions of the world.
Despite the prevalence of modern connectivity tech like fibre, 5G, 4G/LTE etc, large parts of the world remain unconnected or poorly connected at best. Mobile broadband connections also tend to be relatively expensive. This is common in rural and semi-urban parts of many African countries.
When?
The original satellites were launched on 22 February 2018 though development started in 2015.
Starlink expects to start providing services to the public from this year 2020 starting from parts of Canada, USA and Germany.
How?
It is fair to wonder how Starlink intends to achieve low latency. According to Wikipedia:
Internet traffic via a geostationary satellite has a minimum theoretical round-trip latency of at least 477 ms (between user and ground gateway), but in practice, current satellites have latencies of 600 ms or more. Starlink satellites would orbit at 1⁄30 to 1⁄105 of the height of geostationary orbits, and thus offer more practical Earth-to-sat latencies of around 25 to 35 ms, comparable to existing cable and fiber networks.

Wikipedia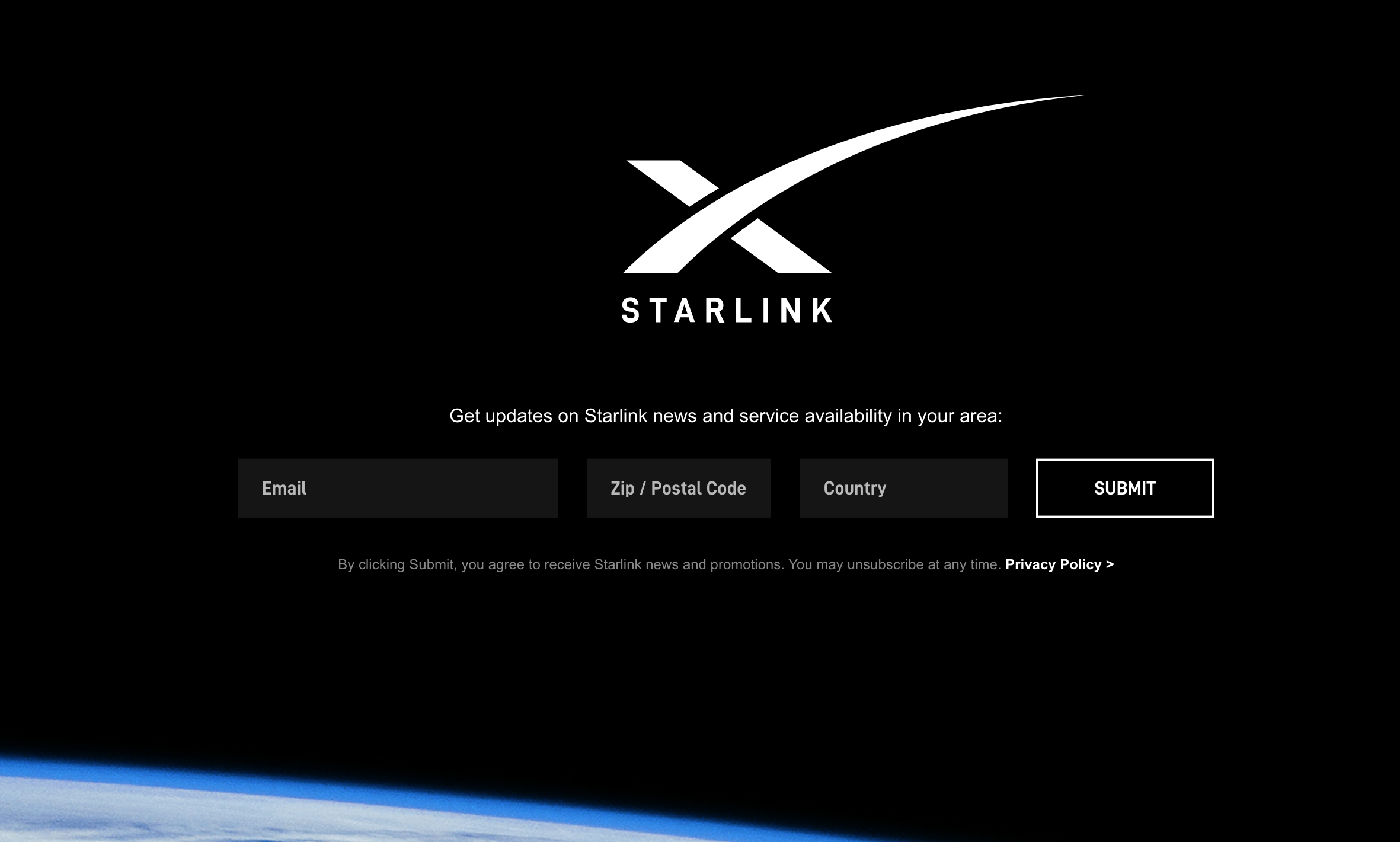 The auto-response from the sign-up email reads:
Starlink is designed to deliver high-speed broadband internet to locations where access has been unreliable, expensive, or completely unavailable. Private beta testing is expected to begin later this summer, followed by public beta testing, starting with higher latitudes.

If you provided us with your zip code, you will be notified via email if beta testing opportunities become available in your area. In the meantime, we will continue to share with you updates about general service availability and upcoming Starlink launches.

Starlink
Africa
Considering the plan is to cover every surface of the earth, it is expected that Starlink would be legally available as an option for many African countries through local resellers and partners. Hopefully, this would be at a reasonable price that many in these parts can afford.
It is worth noting that there are many restrictive governments around the world who would frown at this service considering they prefer to be in control of connectivity in their respective countries. They prefer to maintain the power to control/restrict internet connectivity for the purpose of suppressing dissenting opinion but officially under the guise of "national security".