Glo Mobile is very likely to be launched in Ghana before the end of this year 2009. Having shifted their launch date severally, a launch in December 2009 seems imminent.

Glo Mobile's entry into Ghana comes at a time when Ghana's mobile communications industry appears to be saturated already. For a population of about 22 million people, there are presently five active mobile telecommunications services viz: MTN, Tigo, Zain, Vodafone & Kasapa. Records obtained from the National Communications Authority (NCA) website indicate that the 5 cellular networks share some 14,242,476 subscribers amongst themselves in this order: MTN – 52%; Tigo – 23%; Vodafone – 14%; Zain – 9%; Kasapa – 2%. The existing mobile phone service providers already cover all the geographical locations that matter in Ghana with network coverage reaching virtually every human settlement that has a sizeable population or is of some economic importance.
Glo Mobile thus has a very tall order to make enough impact as to attract a sizeable market-share. Despite the obvious challenge, one is safe to assume that Glo Mobile has a strong strategy that would enable them penetrate the sophisticated and relatively matured market. It helps to add that Glo Mobile has the aim of  becoming the largest telecommunications provider in Africa. According to media reports, Glo plans to capture 30% of the current 11 million subscriber market within 18 months of launch. My attempt is thus to forecast their entry strategy based on the mobile revolution Glo Mobile has caused in Nigeria, since 2003.
Branding
Glo Mobile has already made its presence felt in Ghana with several branding efforts since 2007 starting with its support of Ghana's hosting of the 2008 African Cup of Nations.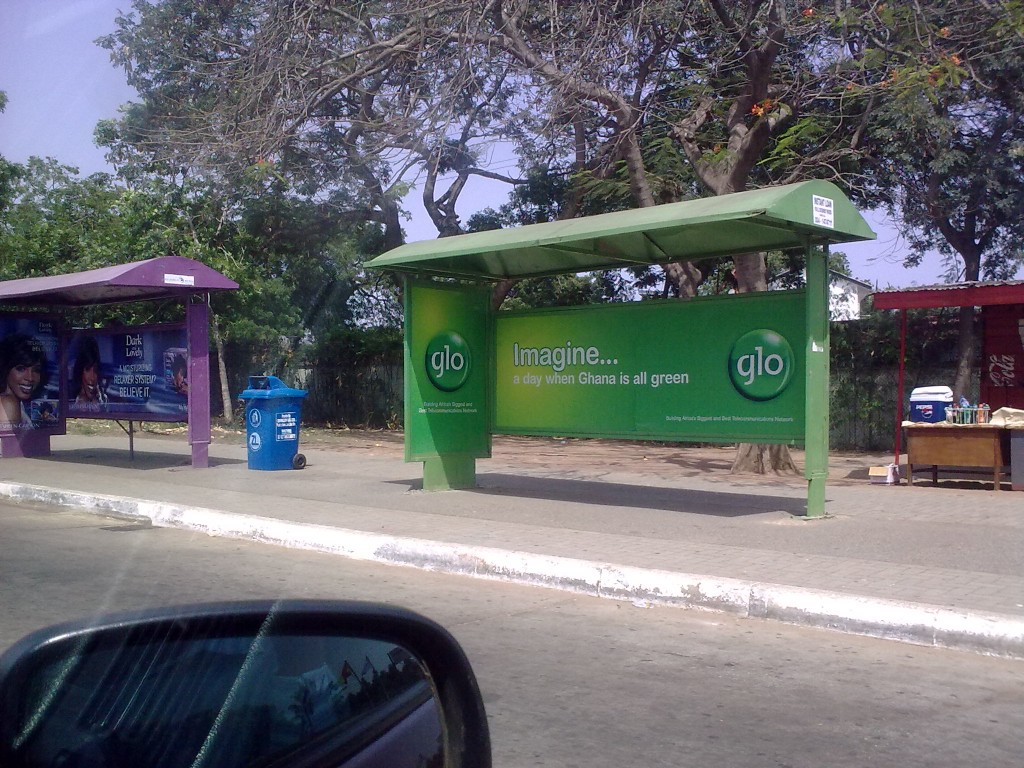 In December 2008, Glo Mobile Ghana contracted a five-year sponsorship deal with Ghana's Premier League until the end of the 2013/14 season. The league has since been known as Glo Premier League.
Glo is a sponsor of Ghana's senior national football team- the Black Stars and also sponsors the CAF African Player of the Year Award.
Glo Mobile has some banners and billboards at the international airport, as well as other important parts of the capital city Accra.
Internet
The dynamics of mobile phone service has changed globally, over the past few years. Mobile phone networks have now evolved into full telecom service providers with services including telephony, entertainment and internet services. Internet services is where Glo Mobile has the strongest trump card in Ghana. It's parent company – Globacom – has already launched it fibre optic connectivity's (Glo-1) landing in Ghana. The cable is expected to carry huge internet bandwidth from Nigeria, through Ghana, to western Europe and vice versa. This automatically gives Glo Mobile Ghana access to unprecedented internet connectivity speeds. The existing fibre servicing Ghana called SAT3 is shared among most Internet Service Providers (ISPs) in Ghana yet Glo-1 (solely owned by Globacom Ltd) has more than 5 times more capacity than SAT3. I expect Glo Mobile Ghana to maximize the use of the Internet capacity by rolling out a 3.5G network at the very least, and offer juicy internet service bundles. All things being equal, the Internet connectivity speed would exceed the highest capacity of any other current service provider.
Voice
I expect Glo Mobile to offer very competitive voice tariff plans as well as all the value added services possible on a 3.5G network: video calling, voicemail, voice sms, call forwarding, call conference, call divert etc. Phone services offered at the right pricing would attract subscribers to Glo Mobile. One waits to see how Glo can beat Kasapa, in the tariff arena.
Coverage
Network coverage is one area Glo Mobile has reportedly resolved to take the lead in Ghana. Focusing on offering a very wide network coverage can put Glo in a good position to acheiving its ultimate aim. One expects that they would choose the initial towns they cover sensibly, considering that existing networks already cover much of Ghana.
Promotions
One area I expect Glo to explore is offering mouth-watering promotions in a bid to attract new subscribers. The market is already awash with promotions from existing networks offering: cars, houses, cash, mobile phones etc. I expect Glo Mobile to announce promotions that are bigger than existing ones. In this same area, I expect free night calls, free network text messages, and occasional heavy discounts on call tariffs.
Choose your number
Since Glo Mobile would be a new cellular network, one expects that they would auction memorable phone numbers, and allow new subscribers to choose their own phone numbers, based on availability. This also helps to endear those who want to jump ship from other cellular networks or just want an easy-to-remember phone number.
If I am allowed to be selfish, I would expect Glo Mobile to offer a 3.5G network in my residential area considering that none of the existing GSM networks does so.
In summary, I have very high expectations of Glo Mobile Ghana, going by the experience of their parent company in Nigeria and their aggressive drive to be the number player in Africa. Existing success makes their ultimate vision a realistic one.