Ahmad Mukoshy is a young Web Developer based in Sokoto, northern Nigeria. He describes himself as:
… a young 20 year old Nigerian serial entrepreneur who founded of Yarnable, an elegant micro-blogging platform and YRN.ME a URL shortener.
I recently granted him an interview after meeting him at BarCamp Nigeria 2010. He shared the motivation behind his social networking websites, his plans for the future and a little bit about his personality. Enjoy…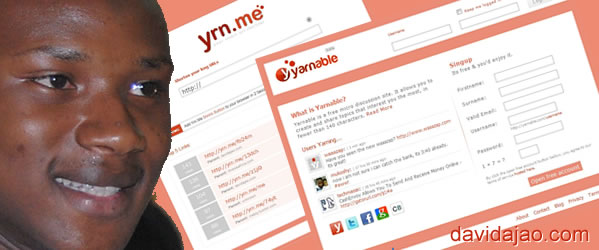 Oluniyi: What was your exact motivation for developing yrn.me?
Ahmad: Well, it was the idea of building yarnable that ignite yrn.me. During the early thoughts I had to build Yarnable, I forecasted the need for a URL shortner hence a tally name Yarn Me!
Oluniyi: So why was yrn.me unveiled weeks before yarnable.com?
Ahmad: I began building yrn.me first while putting down the parent site. More especially, the yrn.me core system took me about a week to build while 3 months to build Yarnable. I was also a user of URL shortening service, so I thought I and my twitter friends could make use of yrn.me not just for Yarnable, that was how I made it public.
Oluniyi: How has the response to yrn.me been so far?
Ahmad: It is quite appreciable and I was more than surprised how the usage picked up so fast. When I built it, I never thought the hype or the public usage will be this good. So, I now I am building the system better with personalized keywords, user accounts and statistic report.
Oluniyi: Would you say you have achieved your aim of building yrn.me?
Ahmad: Well, not yet. Because, now I plan to have it on the top of African URL shortening services. I set to compete well with major brands like bit.ly and tinyurl. With the more home keyword, Yarn Me. I believe I have a chance to have Africa use Yrn.me especial when it's getting better.
Oluniyi: You have quite laudable plans and I take it for granted that you have a strong strategy to make that impact. Right?
Ahmad: Yes, surely I will make the big impact. I have the passion for it, I use it and my friends do so it is here to stay.
Oluniyi: What is your current market share of the URL shortener space for Nigeria?
Ahmad: No such data has been available to me, however the market is not so competitive to me. Yrn.me has shortened over 300links since launch!
Oluniyi: Could you describe yarnable in your own words?
Ahmad: Yarnable is a micro-discussion platform that allow users to share topics of interest in under 140 characters.
Oluniyi: Hmn. With a glance at Yarnable, the obvious word that comes to mind is "Twitter". How does Yarnable compare with Twitter?
Ahmad: It also allow other users to pick topics that interest them the most and share their own thoughts as well making it a real conversation tool. We share one basic thing, the 140 character limit. Aside from that, Yarnable has its own vision which has no relation to being a twitter clone as most people assume.
Oluniyi: Hmn. What sets Yarnable apart?
Ahmad: Yarnable stands aside twitter to build a discussion platform, while twitter stands to update you on timely activities. Yarnable will soon be the hot cake when it comes to sharing thoughts and views on general daily activities. It will also serve as a basic tool to unite like minded people.
Oluniyi: Who is your target audience for Yarnable?
Ahmad: Well, I aim at the general public more specifically young adults who're more passionate about discovering people sharing ideas and building a useful social relationships.
Oluniyi: Are you eyeing any geographical location? Nigeria? Africa? Or the world generally?
Ahmad: Yes, I aim the world at large. But for now, my main focus toward growing the platform is Africa, a place reachable and marketable for me.
Oluniyi: Nice. So, why should an average user in Africa choose yrn.me over bit.ly?
Ahmad: Yrn.me is tiny, compared to bit.ly, but I offer custom feel for African community.
Oluniyi: Do you have any plans for new features to yrn.me and are you able to share some of them?
Ahmad: Yrn.me portray more of the African community, specifically Nigeria. I also plan to add more features that will overlap the bit.ly competition with me. Yes, so many features I plan to include to the shortening service like the newly launched statistic report which I will optimize to a more useful detailed feature. I also plan to make it social, in the sense users can discover interesting links from other users.
Oluniyi: Impressive.
Ahmad: In a nutshell, it will be a unified service of things like Digg and StumbleUpon.
Oluniyi: The login credentials for yrn.me and yarnable.com don't seem to be linked. Why is that so? Wouldn't it be much more convenient if users could login to either services using the same login details?
Ahmad: Yes, the reason why I didn't link the two is that yrn.me uses a single stream of both username and links making shortened link block username accessibility. But, I will soon link the two using another algorithm.
Oluniyi: Ok. So what is your motivation for both services? What's your aim/objective? Money? Fame? Both?
Ahmad: I am a growing programmer, I explore things and my quest led me to this two startups. However, I take them to be my most precious labs to improve my skills and make them bigger and better. Both Yarnable and Yrn.me I plan to lead them to success zone, and I am doing so with some day they outgrow the founder and maybe acquisition, merger or incorporation will follow.
Oluniyi: That is quite ambitious. Where do you see both services in 5 years time?
Ahmad: Well, I see yrn.me as the most widely used URL Shortner in Africa and Yarnable as the leading social discussion site. During my research to build Yarnable, I figured it's the first of its kind regarding my plans for it. I know it will be discovered more soon and when it runs out of beta, a lot of people will discover my long time picture of it.
Oluniyi: I look forward to that. Tell the readers of this blog a few things about Ahmad. Who is Ahmad and what do you do at your leisure?
Ahmad: Uhm… I am 20yr old born in Northern Nigeria (Sokoto). I love programming and business, I like reading books, playing chess and listening to music. I started web development not long ago, professionally in 2008 when I began building interactive sites. That's all I can say for now.
Oluniyi: Thanks for your time Ahmad and I wish you all the very best with your online endeavours.
Ahmad: Thank you, it was my pleasure.