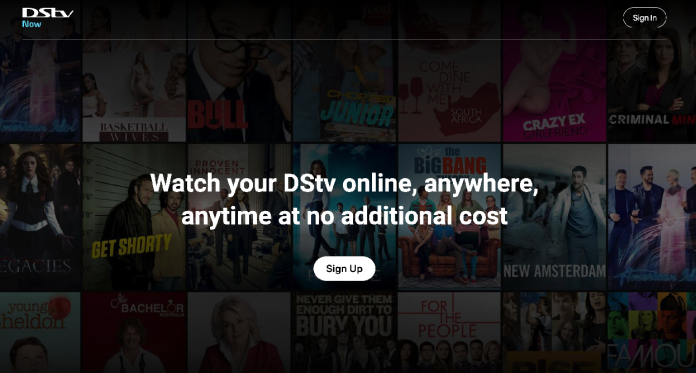 A few live TV channels and DStv Catch Up Content video content are available for free, on MultiChoice's streaming service, DStv Now, and have been for some time – to non-active subscribers in Africa.
21-Day Lock-down
South Africa is on a 21-day lock-down imposed by the national government due to a virus pandemic and as a result, many tech companies are offering some form of incentives to help ease the pressure of being home for 21 days. One of such is Multichoice. They are offering more free mainly news channels on DStv Now to help keep South Africa informed about the epidemic, for the sake of making good health decisions. The free channels as of 4 April 2020 are listed below.
DStv on TV: a promo channel for DStv
People's Weather
SuperSport Play
PBS Kids
Mindset POP
Channel O
TBN Africa
BBC World News
CNN International
Sky News
eNCA
SABC News
Newzroom Afrika
Al Jazeera
EuroNews
africanews
Regular Subscription
DStv Now typically enables an active DStv customer in any African country to enjoy most of their regular content based on their subscription bouquet from their mobile device. Subscribers can their favourite TV shows, Sports, catchup or start live streaming selected TV channels.
They can:
Live stream most channels;
Catch Up on a selection of the most popular shows, sport, and movies;
Download up to 25 videos on Catch Up to watch offline later across up to 4 devices;
enable a restricted viewing environment with PIN controlled access to offer a safe environment for minors on DStv Kids;
Access the full 8-day TV Guide and set reminders to plan to view;
Set remote recordings for their Internet-connected DStv Explora;
View their DStv account balance, statements and clear error codes on their decoder(s). This specific feature is available in South Africa only.
Free Streaming
Non-active subscribers or non-subscribers in South Africa can download the DStv Now mobile app, register and watch a selection of free live streaming channels and video on their smartphone or tablet.
The free Live TV channels and their channel numbers available in South Africa presently are:
100. DStv on TV: this is the regular free channel on TV that promotes on-going programming on DStv.
155. Real Time: a reality TV channel owned by Discovery EMEA.
180. People's Weather: a channel broadcasting content related to climate, environment and weather.
238. SuperSport Play: a stripped-down summary of sports activities. It occasionally offers live sporting events.
241. SuperSport Events: another sports channel.
320. Channel O: A music video channel.
343. TBN Africa: A Christian TV channel.
The TV Guide features programming schedule and other details of all the active DStv channels.
Dozens of Catch Up content are also available. They are categorized into Series, Movies, Kids, Sports, Show and Actuality. The content is mainly from regular channels like TBN Africa, Mzanzi Magic, SuperSport 1, PBS Kids, and History Channel.
Free DStv on TV
One can enjoy the free DStv Now programming on TV when using an Android smartphone or tablet, via a Google Cast device.
While none of the live DStv channels is in HD, many of the catch-up programmes monitored so far were in High Definition.
Though it is safe to assume that the limited free content would also be available via DStv Now apps on the Apple TV and Android TV devices respectively, these have not been tested by TECH dot AFRICA.
One can conclude DStv Now would enjoy more patronage, especially with the imminent shutdown of the good-old DStv Mobile.
FAQ
Can you download DStv Now on a laptop?
Not really. The service does not have apps designed for desktops or laptops but you can enjoy the full experience from most modern browsers on your computer.
Is DStv Now free?
Yes. It is not paid for separately. However, do note that data costs apply when streaming over a mobile network.
How do I register for DStv now?
You need an internet profile known as Connect ID with DStv. You can easily do this through their website whether or not you have an active subscription.
How many devices can you connect?
You can increase your family members' viewing experience by connecting a maximum of 4 devices and can stream from 2 at a time.
How do I download on DStv Now?
This would depend on your device. For iOS devices like the iPhone or iPad, you download the app from Apple's App Store. For Android devices like smartphones, tablets or Android TV, you can download from Google Play Store.
How much is DStv Now per month?
It is a free service that comes with your DStv subscription. It is currently not billed for.
Does DStv Now work overseas?
No. Due to broadcast rights constraints, the streaming content is limited to countries served by DStv in Africa.
Can I watch DStv on my phone?
Yes. It works fine on any modern smartphone that has the latest software and hardware specifications capable of supporting video streaming.
How do I connect DStv Now?
You need to sign up for a Connect ID on DStv's website.
Can you watch all channels on DStv Now?
While most of the content is available, some channels and programming are occasionally not available over the Now service as DStv might not own the rights to stream the content.
How do I deregister a device from the service?
You can simply uninstall the app and/or cancel the Connect ID account.
Is it available on Compact bouquet?
Yes. It is available for all DStv packages.
How can I watch it offline?
You can download up to 25 movies to watch or other videos under the Catch Up section, to watch when your device is offline.
Does it work on Hisense Smart TV?
You can download and install the TV app on newer Samsung, LG and Hisense Smart TVs.
Can you use DStv now without a subscription?
Yes. A very few live channels and other content are available when you do not have an active subscription.
Can you watch Netflix on DStv?
No. They are separate services. Showmax, on the other hand, belongs to Multichoice, owners of DStv.