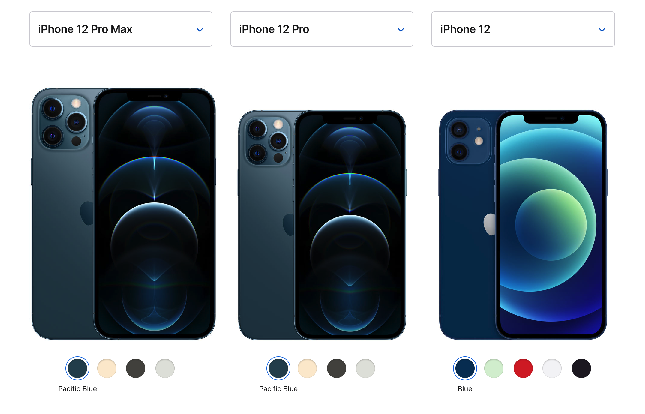 While the iPhone 12 was announced by Apple Inc back in October 2020, there has been a lot of interest in the new range of smartphones. While it might still take some weeks for the new range of iPhone 12 to reach the shelves of South African smartphone retailers, the initial reviews are already out in the United States, from vloggers, bloggers and tech news sites.
Apple announced a range of new smartphones back in October, with varying sizes and specifications.
The 4 latest iterations of iPhones all support 5G cellular technology, thus guaranteeing higher network speeds where there's sufficient network coverage. They also come with improved camera technology across the board, in addition to several other improvements. The released versions are:
iPhone 12 Mini
iPhone 12
iPhone 12 Pro
iPhone 12 Pro Max
Price
None of the leading smartphone retailers in South Africa has released prices or date for the launch of the iPhone 12 range in South Africa. The iPhone 12 prices in South Africa are as follows:
iPhone 12 Mini from R15 999
iPhone 12 from R18 999
iPhone 12 Pro from R23 499
iPhone 12 Pro Max from R25 999
iPhone 12 will be available from all major networks in South Africa, viz: Vodacom, MTN, Telkom, Cell C as well as the Mobile Virtual Network Operators (MVNOs) like FNB Connect etc.
Release Date
The full range of iPhone 12 is available in South Africa from 18 December 2020 on MTN and Vodacom in addition to major Apple device resellers and retailers.
Networks
While the new iPhone 12 smartphones are expected to be available through every major cellular network in South Africa eventaully, only MTN and Vodacom have made some announcement about them at this time.
MTN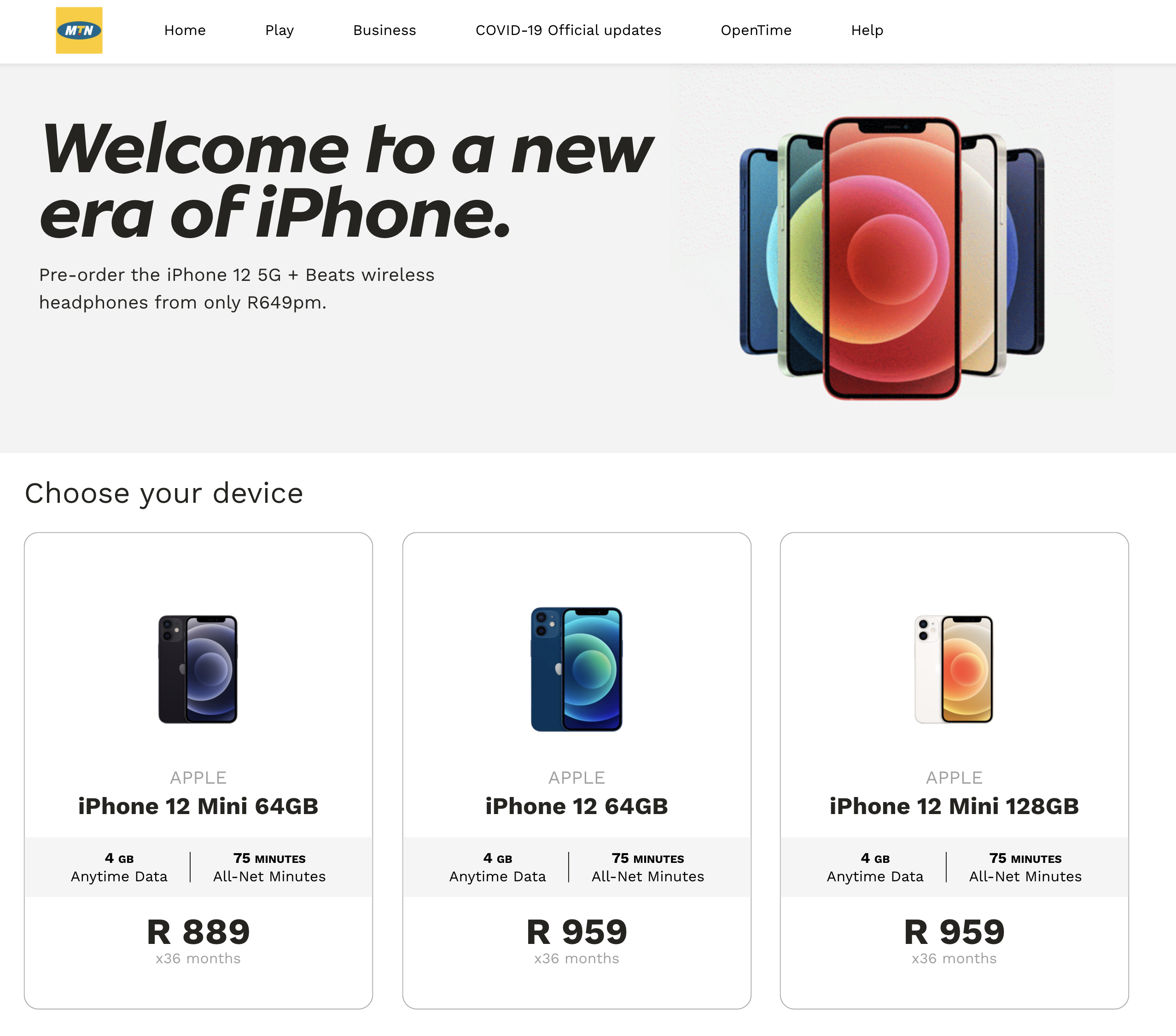 The new range of iPhone smartphones will be available on MTN South Africa from 18 December 2020 with pre-orders being open already. MTN is offering the smartphones with a pair of Beats headphones. Their contracts are all for 36 months with price ranging from R889 for the iPhone 12 mini 64GB to R1419 for the iPhone 12 Pro Max 512GB. MTN claims 5G connectivity will be exclusive to their network on the new phones, until early next year. In essence, other networks will be able to support the iPhone on their networks, but Apple has not approved 5G connectivity yet.
Vodacom
While Vodacom South Africa has not released their pricing details yet, the network operator has confirmed the smartphones would be available from the same date of 18 December 2020 with pre-orders opening on 11 December 2020.
Discovery Bank
While not a network, the insurance & financial services provider is offering free iPhone 12 smartphones to qualified Vitality members, provided they achieve all their Vitality Active Rewards goals over 24 months to fully fund a new iPhone with Discovery Bank.

Mini but mighty, you could soon get the latest iPhone 12 mini. Only #DiscoveryBank gives you up to 100% back on your new iPhone 12 mini when you achieve your #VitalityActiveRewards goals. Want to upgrade to the king of small phone? Upgrade to Discovery Bank today.
Mini
Released: 13 November 2020
135g, 7.4mm thickness
iOS 14.2
64GB/128GB/256GB storage, no card slot
5.4″ display
1080×2340 pixels
12MP
2160p
4GB RAM
Apple A14 Bionic chip
2227 mAh Li-Ion
iPhone 12
Released: 23 October 2020
164g, 7.4mm thickness
iOS 14.2
64GB/128GB/256GB storage, no card slot
6.1″ display
1170×2532 pixels
12MP
2160p
4GB RAM
Apple A14 Bionic
2815 mAh Li-Ion
Pro
Released: 23 October 2020
189g, 7.4mm thickness
iOS 14.2
128GB/256GB/512GB storage, no card slot
6.1″ display
1170×2532 pixels
12MP
2160p
6GB RAM
Apple A14 Bionic
2815mAh Li-Ion
Pro Max
Released: 13 November 2020
228g, 7.4mm thickness
iOS 14.2
128GB/256GB/512GB storage, no card slot
6.7″ display
1284×2778 pixels
12MP
2160p
6GB RAM
Apple A14 Bionic
3687mAh Li-Ion