Telecommunications operator, Telkom and Loon, a subsidiary of Alphabet, on Thursday announced the signing of a definitive agreement to pilot an innovative new 4G/LTE access network service in Kenya. This will be Loon's first commercial service in Africa.
"This partnership demonstrates the Board's commitment to guide and oversee the transformation of Telkom into a business with a reputation for innovation, with respect to its product and service offering. This partnership with Loon is also a true testament of our resolve to deploy pioneer technologies due to their potential impact to our customers," Telkom Kenya's Board Chair Eddy Njoroge said.
The CEO added that the partnership would help them provide LTE coverage across larger areas in the country. "We will work very hard with Loon, to deliver the first commercial mobile service, as quickly as possible, using Loon's balloon-powered Internet in Africa," said CEO Mareuse, adding that that will further enhance Telkom's network to its customers. The Loon service is an innovative approach to providing extended 4G/LTE coverage to rural and suburban areas with lower population densities, using high altitude balloons operating 20 kilometres (60,000 feet) above sea level, well above air traffic, wildlife, and weather events.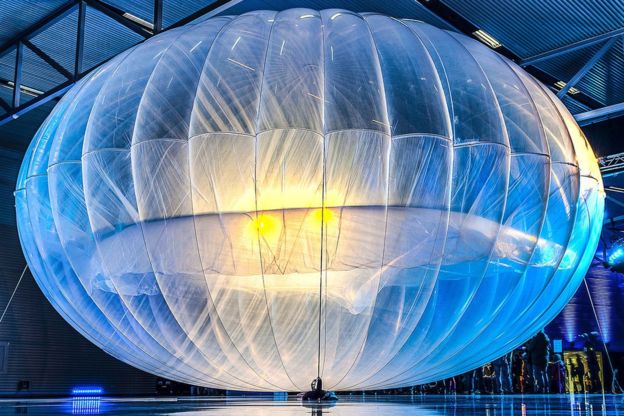 The balloons act as floating cell towers, transmitting a provider's service – in this case, Telkom's service – directly to a subscriber's existing 4G/LTE phone below. Loon's equipment is powered by onboard solar panels.
This animation explains how Loon works. "We are extremely excited to partner with Telkom for our first engagement in Africa. Their innovative approach to serving their customers makes this collaboration an excellent fit. Loon's mission is to connect people everywhere by inventing and integrating audacious technologies. We couldn't be more pleased to start in Kenya," Loon Chief Executive Officer Alastair Westgarth, stated.
The pilot will take place within the general area of central Kenya, some of which has been difficult to service, due to mountainous and inaccessible terrain. The exact coverage areas will be determined in the coming months, and subject to the requisite regulatory approvals. Telkom and Loon will also work closely together over the coming months to prepare for the deployment of the service, which is expected in 2019.