Alphabet's Loon, which is planning to launch balloon-powered internet connectivity in Kenya in 2019, has successfully sent a test internet connection 1,000 kilometres across seven balloons. That represents a distance that would span the entire country from the port city of Mombasa to the Kenya-Uganda border. The test, which was carried out in the US in August, marks a positive step towards the rollout of service next year in partnership with Telkom Kenya.
This last test took place just a few weeks before the team attained another milestone by sending a single connection across two balloons 600km apart – the longest single link to date.
Salvatore Candido, Loon's Head of Engineering, said for a long time, a fundamental constraint of connectivity has been proximity, or a lack thereof, to where the internet is now. Loon is working to change this reality by making the internet reach further. This comes just two months after Loon announced that it was partnering with Telkom Kenya to provide balloon-powered internet in some unconnected and under-connected parts of Kenya.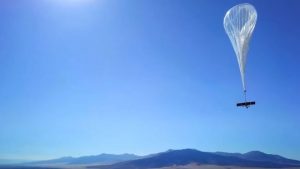 By sending a connection across multiple balloons, Loon is not simply extending the signal to the last balloon in the line to serve users under its position. Each balloon in the network is capable of passing a connection along while simultaneously transmitting it to users on the ground. This means that instead of one balloon utilizing one ground-based connection point to serve users, that same connection point can be used to power multiple balloons, all of which can transmit service to people below.
Perhaps the most important aspects of connection that Telkom Kenya will derive from Loon's system is in terms of coverage area that is between 20 to 30 times larger than existing ground-based systems. Thus, Loon will connect more people sans building new ground infrastructure – a notable setback to providing connectivity to people in remote areas.