We were cruising at an altitude of about  34,000 feet from the coastal town of Mombasa headed for Nairobi when the voice of the Kenya Airways pilot broke into the quietness of the flight. I took it to be another routine announcement but it  turned out to be different:
'…for those seated on the left side of the plane, if you look out through the window, you would see Mount Kilimanjaro…'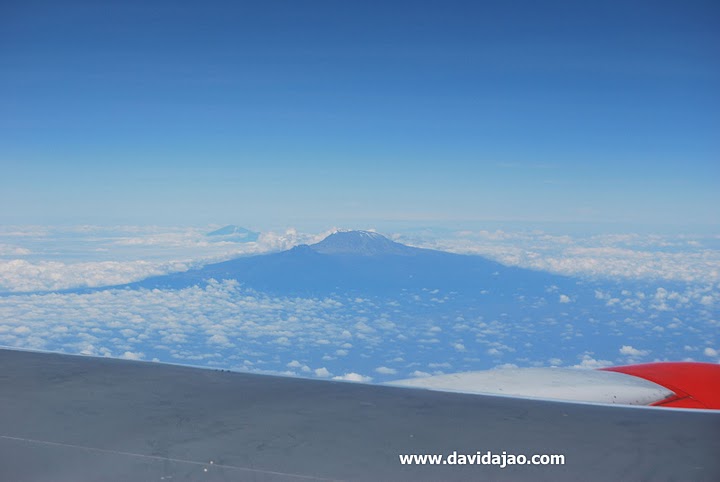 "Kili-what? Did he say left side of the plane?" I wondered as I didn't believe my ears. I was on a window sit on the left side of the plane and it sounded too good to be true but I looked out all the same. Out there in its majesty, stood Mount Kilimanjaro, the highest mountain in Africa. The same mountain I learnt about severally in my childhood days and have fantasied climbing.
It was such a thrill to have sighted it, albeit from a safe distance & the comfort of a Boeing 767-300ER jet. Since I had my Nikon D60 camera between my laps, I quickly started taking shots of Africa's tallest landmark.
While tourists on the flight scrambled to the left side of the plane to catch a glimpse, the Kenyans sat on, unperturbed. Obviously, they're used to the beautiful sight.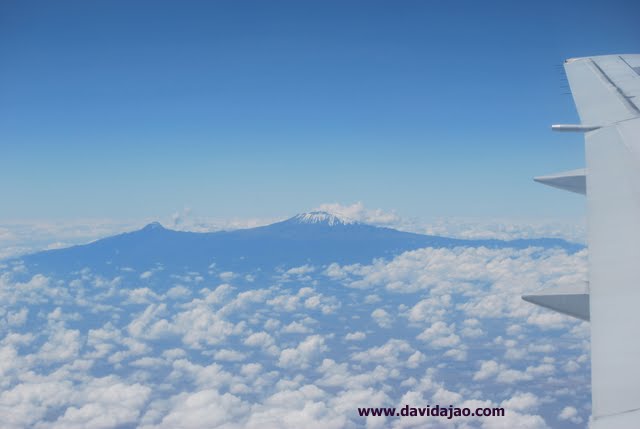 It stands tall with a little cap of snow atop it. This made me re-think my dream of climbing that mountain. Rather than scare me off, it gives me a more realistic sense of the mount called Kilimanjaro and helps me to calibrate my fantasy of climbing it.
Kilimanjaro, is the highest peak in Africa at 5,895 metres (19,341 ft) and most of it is in Tanzania with only a part of it in Kenya.
As the aircraft gently descends down into Nairobi, I am elated to have seen Mount Kilimanjaro with my own eyes. Not from a photo, nor TV. How many of my peers would have the same opportunity? I thought to myself.
This is an exciting way to end a fulfilling week. I would share some details of the Mombasa weekend thrill, later.
Note: I wrote most of this mid-flight on a smartphone in offline mode.
As always, comments are welcome.