I picked-up an MTN Nigeria mobile broadband kit recently and have used it heavily, since then. Find below my review of the service.
The entire kit cost N18,650:
HSDPA USB stick: N8,500
MTN SIM: N150
Airtime: N10,000 (24/7 monthly plan)
The MTN agent asked for an ID and passport photo. As I had no prior knowledge they would demand this, I was only fortunate that I always carried a driving licence and spare passport photos in my wallet everywhere I go, for times like this. Be informed. Also, I was made to sign a fine print containing their terms of service.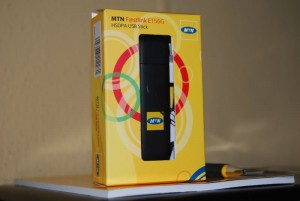 The device
Branded as MTN [email protected] E156G, the USB stick is essentially a Huawei E156G with the following specifications:
HSDPA/UMTS 2100MHz – it can connect to just about any 3.5G cellular network in the world if it were unlocked.
EDGE/GPRS/GSM 1900/1800/900/850 MHz – it can connect to just about any GSM cellular network in the world if it were unlocked.
HSDPA service data rate up to 3.6Mbps – real life speeds would vary
SMS service – users can send and receive text messages when using the bundled software
Micro SD card slot – it can take a Micro SD of up to 4GB capacity and thus double as a USB drive
Plug and play – there is no need to install software from a CD. The software bundled on the device would have to be installed though, for PCs and Macs.
Before you decide to buy, the device has the following system requirements:
Windows 2000 SP4, Windows XP SP2, Windows Vista. I am safely assuming it would work well on Windows 7. Also, I got it to work on Ubuntu 9.10
Mac OS X 10.4 and 10.5 with latest upgrades
Hardware system should meet the recommended requirements for the installed OS version
Display resolution: 800 x 600 and above
Standard USB interface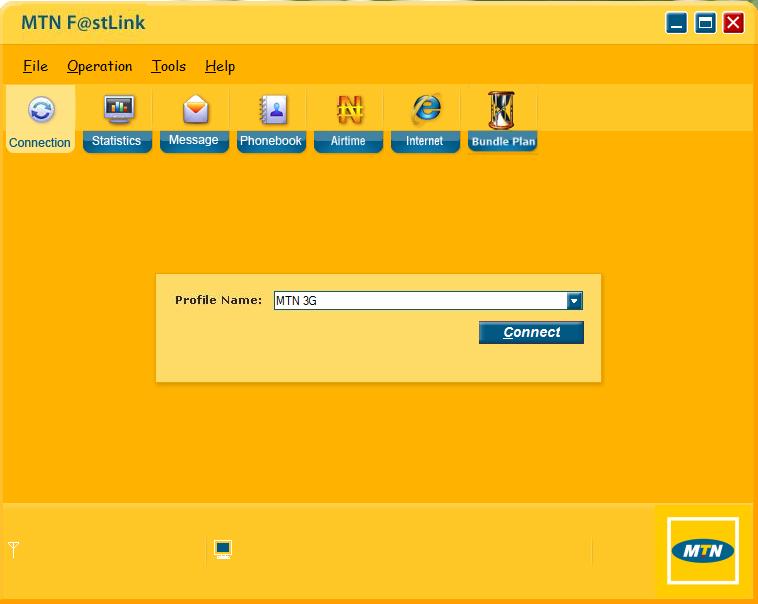 The software
Branded MTN [email protected], it offers 7 tabs, namely:
Connection: this is where the user initiates a connection or disconnection to/from the MTN network
Statistics: offers a detailed break-down of data usage and includes a graph
Message: enables the user to send/receive text messages and manage existing messages
Phonebook: an address book that saves contact details.. Record include Name, Mobile Number, Office Number, Home Number, Email address and Remarks.
Airtime: enables the user to check and load airtime. It is divided into postpaid and prepaid, to cater for both market segments.
Internet: a click on this loads the default web browser
Bundle plan: enables the user to select which of the bundle plans to subscribe to, and check the status of an existing bundle. This service is for prepaid subscribers only. The confirmation is via a text message.
The bundles
MTN Nigeria offers 3 data bundles:
24/7 Monthly Plan: this is the ultimate plan from MTN and comes with a 3GB data cap but is available 24 hours every day within a 30 days period. It goes for N10,000 per month. This bundle is ideal for heavy users.
Nite Plan: this is usable only from 10pm to 5am and also comes with a 3GB data limit but costs only N2,500 monthly. This bundle is ideal for surfers who have a day job and can afford to stay awake all night.
24 hours Daily: this is clearly targetted at the occasional web surfer and comes with a meagre 50MB data cap. It costs only N500.
The service
I subjected the mobile broadband service to a speed test at the time of writing using speedtest.net; the following screenshot shows the highest speed I got. Note that speedtest.com used Vodafone Ghana's server for the test.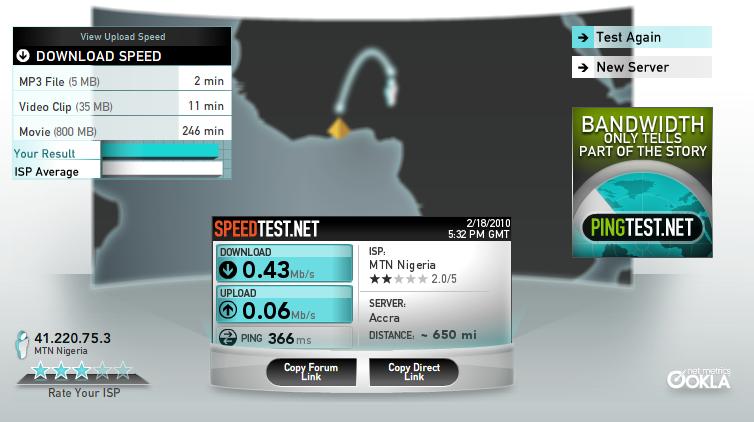 The results shown in the screenshot above just about represent an average of the several tests I carried out. It shows that MTN Nigeria offers a download speed of about 0.43 Mb/s and a miserable upload speed of 0.06Mb/s as well as a high latency of 366ms.
This means, upload heavy data using the mobile broadband service would be a slow experience and making phone/video calls  via the Internet would be less than ideal due to the high latency as seen from the ping test.
The coverage
It is critical to confirm 3G coverage in your locality before opting for MTN's mobile broadband service for therein lies the key to the advertised speeds. From the marketing flyer attached to the kit:
3G service is currently available in most part of Lagos, Abuja, Enugu, Port Harcourt, Kano, Benin, Ibadan, Kaduna, Onitsha, Aba, Asaba.
MTN also offers an extensive EDGE coverage that is even more nationwide. EDGE which offers a fairly fast connectivity is available where there is no 3G coverage.
The bad
The MTN mobile broadband service was not without hiccups, at the time of extensive use.
Intermittent disconnections: The service simply went off occasionally and connection could be re-established by disconnecting and re-connecting from the network. At other times, the downtime lasted over an hour.
SSL traffic: Occasionally, it was impossible to access secured websites. All access to URLs starting with https:// were in possible and thus secured chatting programs like Yahoo Messenger and Skype failed to connect too. This error typically occurred at mid-mornings.
Not all websites were accessible: Even when the mobile broadband service was at its peak of performance, some websites were not accessible despite repeated attempts. The persistent error message was: "No suitable nodes are available to serve your request." A work-around this was to use a proxy server.
The offered data bundles are not very flexible as users' choices are limited. Heavy users are forced to subscribed to the 24/7 monthly plan for N10,000 even if they would need less than 3GB monthly.
It is difficult to know the status of usage after crossing the 1GB milestone. Checking your data usage via SMS thereafter does not offer an exact figure of used data but simply states that 2GB has been used. It is thus difficult for the user to know when usage is getting close to the 3GB limit.
The verdict
MTN Nigeria's mobile broadband service offers high-speed internet connectivity much of the time and is worth buying where mobile connectivity is needed or fixed broadband options are not available provided the user can live with the few annoyances highlighted above.
Note: it is possible to enjoy the broadband service from MTN without buying their [email protected] modem. One could either browse on the (smart)phone itself or use it as a modem. When using the phone as a modem, the user would need the following:
a 3.5G-capable mobile phone
modem driver &  dialling software: these are typically provided on a CD bundled with the phone, by the phone manufacturer, or can be downloaded via the Internet
a means of connectivity the phone to a computer: whilst bluetooth is usable, USB is ideal. Infrared is archaic.
an MTN data bundle subscription
Backstory*:
I have used the MTN Mobile Broadband service extensively before buying their [email protected] modem, using Nokia smartphones as modem and have experienced the high speed in Lagos, Ibadan and Kaduna. EDGE worked in Zaria.
MTN branded complimentary gift items accompanied the broadband kit: a pen and a writing pad.
I did not have enough time to read the terms before signing and so not sure about what it contains.
*The info in the "backstory" section, are what I considered too trivial to add into the main body of the review but useful enough to share with you.
Did you find this review useful, feel free to share this blog with others. Do you have an additions or questions about this review, add these using the comments area.