The Grid, Vodacom's mobile social network, has gone global.  Following successful launches last year in Nigeria and Tanzania, as of today people worldwide can access this unique service offering mobile chat and content sharing features.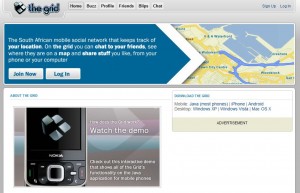 Up to now the two million existing members of  The Grid  "in South Africa, Nigeria and Tanzania – were only able to chat and share content with other Grid members from their own country. Members could also chat to their Google Talk, MSN Messenger and Yahoo! Messenger contacts from The Grid.
With the new release, however, Grid members " irrespective of country or network operator "can become friends, chat to each other or share, rate and comment on photos and videos posted by the community.
The Grid was originally launched in South Africa in 2008 and has since developed into one of the leading South African social networks. In 2009 The Grid launched into both Tanzania and Nigeria "both developing African countries with high volumes of mobile web traffic.
The international expansion will make it possible for anyone with a cellphone to sign up and join the social network "at no subscription cost. Operations will be based in South Africa with the infrastructure hosted locally by Vodacom Business in their Midrand Data Centre.
Says Phillip Boshielo, Executive Head at Vodacom Ventures:  "This international roll-out represents yet another important milestone in the development of The Grid as a leading social network. It's also a milestone that I am particularly proud of. By making The Grid available to everyone everywhere, we're harnessing the full power of the mobile web to create a truly global meeting place."
The Grid can be accessed through its mobi site at http://wap.thegrid.co.za. Membership is free and members only pay standard data rates to their service provider.