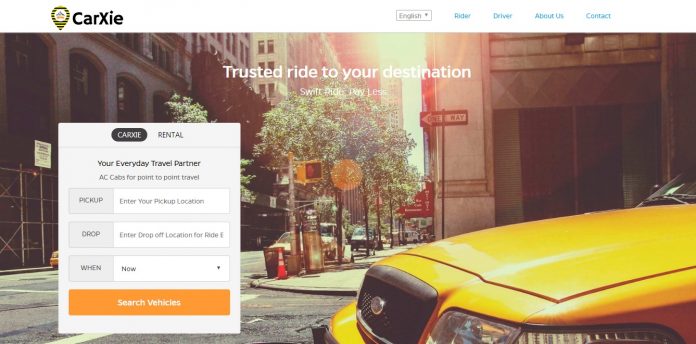 A new mobile driver-rider app, CarXie, was recently launched in Nigeria. The app boasts of having hundreds of cab owners and commuters in Nigeria downloading it, claiming that the indigenous app will stiffen the competition between existing taxi service apps.
Operations Director, Dukan Group, the parent company of CarXie, Mr Chinedu Amadi, said expectations are high from the general public who already see a successful Nigerian enterprise driven by the urge to surpass international standards.
He described the response of Nigerians to CarXie as magnificent. He revealed that within a week of the launch that over 500 persons have downloaded the CarXie App, in addition to the too many messages and prayers that he is receiving in support of the project.
Amadi noted that CarXie has hit the ground running and commuters are already expressing deep satisfaction with the service being rendered. Amadi also expressed fulfilment that CarXie is already delivering on its projection to provide employment for 36,000 Nigerians in the next five years.
According to him, CarXie was designed to bring comfort, safety, and timeliness to the transport sector in Nigeria through well-defined processes to both the cab and the driver while properly establishing the identity of the rider.
He remarked: "Employment is generated through three levels of supervisory partnerships embedded in the CarXie design – the Executive, State, and Regional. Each level of partnership, according to him, has responsibilities and remunerations that add value to the riding experience. Riders can board confidently – expecting an accident-free trip; there is a zero possibility of theft or kidnapping; schedules are met without hiccups.
He emphasized that CarXie is designed to efficiently solve local problems and challenges Nigerians face when arranging their trips.
"CarXie Mobile App, tested and available in the Google play store and in the very discerning Apple store, comes on board with awesome features that answer a number of Nigerian questions, like will the cab be functional and comfortable with a courteous driver? Can the police or VIO stop and delay the cab (your trip) for particulars? What of the anonymity that is aiding the hydra-headed crime that is called kidnapping?
"These Nigerian questions have been addressed by CarXie that is the greatest advantage of a homegrown technology design, is its ability to effectively solve local problem.
"CarXie App is conceptualized with features that, among other things, make car theft and kidnapping impracticable.
"A rider is expected to issue his Bank Verification Number (BVN) as a means of social identification and that each vehicle is automatically tracked and voice chats are possible during rides.