Zoomed is a car tracking application that uses cheap and affordable SMS technology to locate any Zoomed-equipped vehicle in real-time without the need for Internet connectivity. Zuo Bruno is the founder of Zuoix – the company that pioneered the development of Zoomed.
Zuoix, a Limbe-based startup, is Cameroon's first Offensive Information Security firm that provides SMS-based security solutions and applications to businesses, corporate bodies and governments in Africa.
Over the past 2 years, Cameroon has interrupted internet in English-speaking regions repeatedly in a bid to subdue the unrest following mass protests by lawyers and teachers in 2016. The first shut down happened in January and lasted 94 days before being shut down for a second time in October of the same year, this time lasting 230 days.
Following this action, several startup founders fled the hostile environment, a move that is likely to hurt the country's fledgeling startup ecosystem. Bruno, however, has embraced adversity and developed Zoomed.
"Following the disconnection, I noticed a lot of cars were being stolen and realized these stolen cars had internet-based tracking solutions installed but the owners still couldn't locate their cars," says Bruno, founder of Zuoix, a Cameroon-based information security start-up and parent company of Zoomed. He adds that the government's internet shutdown incentivized him to conceive of the idea.
The innovation won the 2018 Gold prize for Excellence in Scientific Research and Innovation, an award gifted by the president. The award was coupled with a $17,500 cash prize.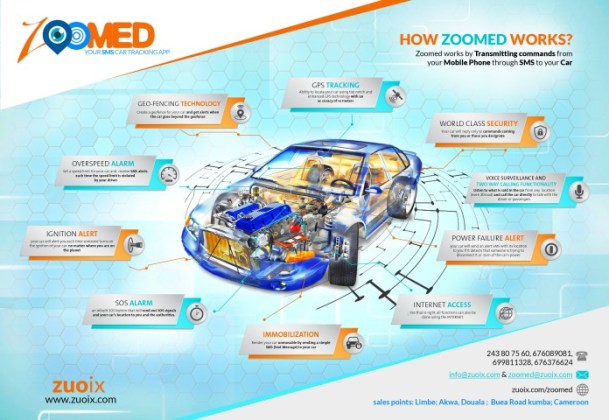 Zoomed is available for use by anyone who has a mobile phone and needs to monitor their vehicle, at the price of $212. It takes less than an hour to fit vehicles with the technology. Using Zoomed, the user is able to locate their automobile's direction, speed and elevation, and perform other actions such as immobilization, voice surveillance, two-way calling and sending of SOSs. The application utilizes USSD technology rather than the internet.
The app is currently being used by over 50 companies in Cameroon and is working towards expanding into neighbouring countries on the continent. "We are moving forward to other countries including Nigeria, Kenya and Ghana, and hoping for good results. Our plan is to send this application Africa-wide so that more people can enjoy the services we offer, secure their cars and have a good night rest knowing that their cars are safe."