ChamsCity is a new subsidiary of Chams Plc and is a facility that is expected to become the biggest cyber café in the world. The ChamsCity ICT centre has 1,000 computers housed in a single building.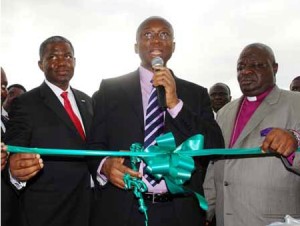 The cyber centre, located in Lagos, is one of several digital malls that are being built across the country by CHAMS Plc, a Nigerian information technology firm with specialisation in identity management and related solutions, according to The Nation – a Nigerian daily newspaper publication.
The General Manager of ChamsCity Mr Sola Bickersteth was reported to have said the Lagos centre would be equipped with over 1,000 computers which is higher than that of a cyber centre in New York, which boasts of about 850 computers, a figure acknowledged by the Guinness Book of Records as the largest yet, in the world.
It is reported that representatives from the Guinness Book of Records are billed to arrive in Nigeria very soon for an assessment of the facility.
You want to gain access into the facility? No problem. You can make use of the centre's facilities provided you are ready to allow your bio-data to be captured during registration. Your pictures, fingerprints and phone numbers would be taken which in turn grant you access using unique identification numbers. With this amount of proactive security, I am sure abuse of the facilities would be curtailed to a very large extent.