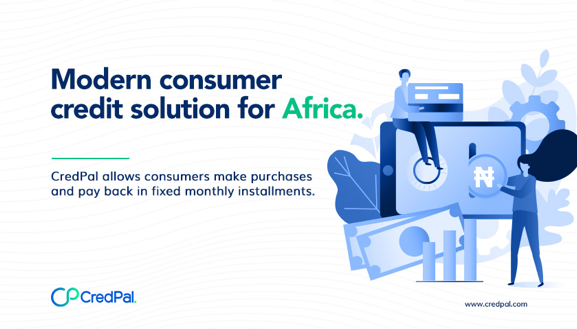 CredPal, a financial technology start-up founded a few years ago is transforming the lending and retail industry in Nigeria with its consumer financing services. With technology and financial partners, they are helping thousands of middle and lower-class consumers make purchases and payback in fixed monthly instalments with a 3-7% interest rate.
CredPal's offer is geared towards financial accessibility, impeccable user experience, secure and innovative technology; making it possible for consumers to access credit at the point of sale in merchant's stores and eCommerce platforms. The customer purchase journey has been thoroughly covered so they can enjoy the experience.
According to the CEO, Fehintolu Olaogun, "CredPal is set to revolutionize consumer credit in Africa by increasing access to affordable financing. We are unlocking a new segment and increasing the lending market of customers who normally wouldn't have taken cash loans." And they are doing just that with all the channels of distribution they are leveraging to reach as many Nigerians as possible.
CredPal has built a comprehensive platform that caters to both businesses and consumers.
Retailers or Merchants
CredPal integrates with eCommerce and offline stores to allow their customers buy whatever they want and pay back in instalments. This partnership with retailers helps them increase their customers' spending power while they experience a boost in sales, increase in order value and even get to provide better customer experience.
Financial Institutions
The innovative approach also provides financial institutions the opportunity to grow their lending portfolio by leveraging CredPal point-of-sale financing. It is worthy to note that this is the first and only "consumer credit platform" and it will be quite interesting to see how this platform progresses.
CredPal, a YCombinator company and a winner of the Visa Everywhere Initiative award, in just a few years, has proven that they are here to own the consumer credit space. They are building a powerhouse that is fuelling the entire lending ecosystem and driving retail growth. As stated by the COO Olorunfemi Jegede, "We have products in the works and are beyond excited on how it will help consumers and change the entire lending ecosystem"
Since launching, CredPal has financed over 40,000 customers who are salary earners and have signed up over 1000 merchants. According to the data gathered by the company from the buying history of their customers, more customers purchase devices and appliances. So, the company is opening its doors to non-salary earners through targeted products like device financing where customers can buy smartphones with minimal requirements.
If you're interested in using CredPal, this is how it works:
For customers who would love to make purchases and pay over time, you can sign up
If you do not have cash at hand and need to make an instant purchase, you should check out CredPal.
Retailers
Looking to increase your sales revenue and grow your customer base, simply go to credpal.com to register your business on the signup page and you will get a prompt response.
Finally, CredPal recently gave their website a new look and we must say that it is very appealing. They have taken user experience to the next level with their minimal designs, attention to detail and explicitly showcasing all the services they offer.