I woke up to a news report about an earth quake scare in Ghana. An earth quake was supposed to have happened somewhere close to where I live. Yet, I had slept soundly all night and was not ruffled at any point by the earth shaking.
It all started with a call I got from a friend this morning at 6:15am. That was the earliest she ever called me and you would thus imagine how surprised I was when she said she'd been trying to reach me since 2am! Apparently, the mobile network MTN was jammed as a result of the numerous phone calls and text messages making rounds. The rumour going round were two fold:
an earthquake had already shook a town around Kasoa and was headed towards Winneba and  Cape Coast
an earthquake was due to shake Accra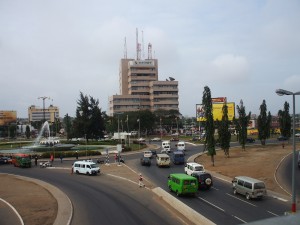 I only laughed it off. Earthquakes are not known to be predictable and knowing my people, I could tell that this was a rumour orchestrated to play on people's minds since the recent earthquake in Haiti would lend credence to it.
I heard reports on radio from across Ghana about people who spent the entire night outside their homes, in open spaces in anticipation of an earthquake. As comical as it sounds, one cannot afford to be complacent since some parts of Accra have been identified long before now, as being earthquake-prone. According to experts however, the worst case scenario for any part of Ghana would be an earth tremor which is a mild form of an earthquake.
Samuel Okudjeto Ablakwa, a deputy Minister of Information, was at Joy FM (a leading radio station in Accra) to calm nerves and dispel the rumour:
"Government wants to assure the nation that it is just a rumour, that, there is going to be an earthquake.
"There is no iota of scientific evidence in that; somebody has just pulled a prank on the nation.
"It's nothing but a wild rumour orchestrated and aimed at causing commotion and panic. It is not true, we have checked from all the official agencies."
An expert in this field had also added his voice on why there should be no cause for alarm at this time:
Dr Emmanuel Amamoo-Otchere, former Executive Director of the Centre for Remote Sensing and Geographical Information Services (CERGIS) at the University of Ghana, Legon, has reiterated that even though it is good to take precautionary measures, people should not panic.

"There is a world network for earthquake news and I checked that source and I haven't seen anything like that…I think some people are trying to raise a scare, which may not be true. I don't think it is real."

Dr Amamoo-Otchere however noted that earthquake with heavy impact, such as the one in Haiti, are difficult to predict, but assured that even if anything would happen in Ghana, it would be a minor one.
This latest event though a rumour, has got me thinking. Already, one is grateful that natural disasters hardly happen in Ghana. The few ones that seem natural, are actually man-made. Accra is flooded on an annual basis and each time it happens, lives are lost. The floods are typically caused by people erecting permanent structures on water ways and drainages. The huge water from the rain thus builds-up into a flood that invades homes and kills.
Every year, government agencies react, promising to take corrective action including demolishing the wrongly located buildings. Yet, its always the same at the end of the day. Accra gets flooded again because the government took little action the previous year. Thus, I cannot imagine the huge loss of life that would follow an earthquake in Ghana.
Are you in Ghana? How did you hear about the rumour and what was your reaction? Do you have any evacuation plan in case of a real earthquake? What is the most valuable item you would take with you if you were ordered to leave your home/office at short notice? Share your thoughts in the comment area.