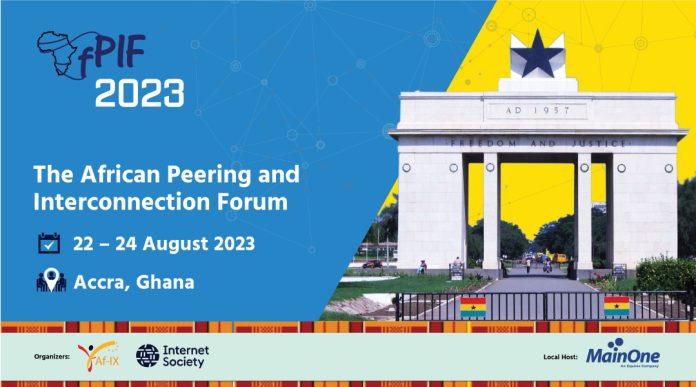 Ghana is set to host the 12th edition of the African Peering and Interconnection Forum (AfPIF) from 22nd to 24th August 2023 in the capital city of Accra. This will be the second time that the dynamic African city has had the honour of hosting the event.
Organised annually by the Internet Society (ISOC) in collaboration with the African IXP Association (AFIX), AfPIF's primary goal is to enhance the volume of internet content and traffic exchanged within Africa. The forum brings together Internet service providers, content creators, and data centres across the continent. Participants share insights, discuss emerging industry trends, and seek collaborative opportunities through these meetings.
One primary method to achieve AfPIF's mission is by using Internet exchange points (IXPs). These IXPs allow various networks to interconnect directly using shared infrastructure, optimising the distribution of vast amounts of content. The benefits of such interconnections include faster internet speeds, reduced costs, improved reliability, and decreased dependency on international intermediaries.
Emmanuel Kwarteng, the Country Manager of MainOne in Ghana, voiced his excitement about the upcoming forum, describing the event as in line with their mission of promoting digital inclusivity. "Hosting the peering community in Accra is a privilege. We are committed to enhancing the localisation of Africa's internet traffic which, in essence, boosts speed, reduces costs, and minimises latency," he remarked.
The Executive Director of the African IXP Association, Kyle Spencer, shared a similar sentiment, noting AfPIF's central role in strengthening Africa's digital infrastructure. "Our gathering in Accra signifies a renewed pledge to fortify the continent's digital framework. By advocating for local internet traffic exchange, AfPIF is playing a pivotal role in the evolution of Africa's digital ecosystem, propelling economic growth and community empowerment," he said.
The upcoming AfPIF event is expected to captivate its audience, offering an array of keynote speeches, engaging panel discussions, technical sessions, and invaluable networking sessions. Those in attendance will gain a deeper understanding of current industry trends and will have the opportunity to connect with leading experts, paving the way for increased peering and interconnection across the continent.
The official website provides comprehensive information for those seeking further details on the African Peering and Interconnection Forum: www.AfPIF.org.