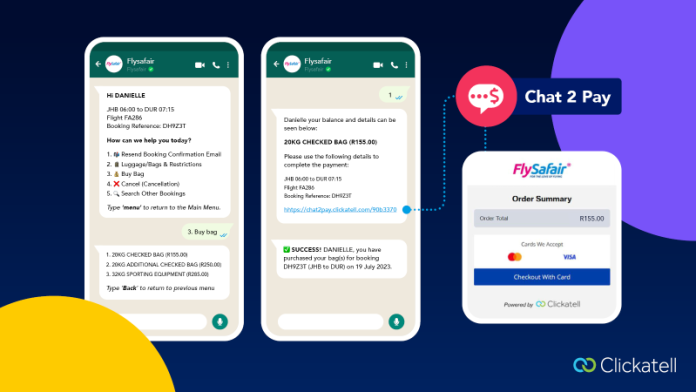 Mobile messaging leader, Clickatell, has launched its Chat 2 Pay feature in partnership with South Africa's leading low-cost airline, FlySafair. The airline is now the first in the world to use Chat 2 Pay, which features a pay-by-link capability, allowing customers to make mobile payments via the airline's WhatsApp channel. This latest addition will make it easier for FlySafair customers to pay for their luggage using mobile phones and avoid queuing at the airport. To access the WhatsApp service, customers must send "Hi" to the FlySafair business account at +27 87 357 0030. Once in the WhatsApp channel, customers can choose "My Booking" and then "Buy a Bag" to follow the prompts on the secure payment link to make a purchase on WhatsApp. They can also scan a QR code at the check-in counters to receive the secure payment link.
This Chat 2 Pay feature helps FlySafair save customers time and safely make payments without sharing their payment information with call centre agents or reading payment card details over the phone. Interacting and transacting with airlines using mobile messaging has already been welcomed by travellers, with Clickatell's latest Chat Commerce Trends Report: Travel Edition 2022 finding that 89% of consumers would like to use mobile messaging to interact with airlines and 77% said they are willing to use a mobile payment link with travel brands.
Jeppe Dorff, Chief Product and Technology Officer at Clickatell, stated that there is a major opportunity for airlines across the globe to enhance their customers' travel experience by making it possible to browse, book and pay for, as well as manage their travel bookings on their mobile phones. FlySafair's latest addition also adds convenience, optimal customer service, and a transaction channel to its customers.
Last year, FlySafair expanded its customer service by offering the popular WhatsApp channel through the Clickatell Platform. The FlySafair WhatsApp channel hosts key information about customer bookings, flight status, general flight information, an option to check-in and receive boarding passes on WhatsApp, the option to chat with a live agent, and now the option to make payments for extra products and services. The airline's move to using WhatsApp as a convenient, instantaneous, and optimal customer service and transaction channel for its customers has helped it buck the trend of airlines using mobile apps to address consumers' needs.