Tech giant, Google, on Monday announced the highly anticipated and heavily leaked Google Pixel 3 Smartphone in addition to a new Pixel Slate tablet/laptop combo plus a Home Hub.
Google Pixel 3 Smartphone
For a mobile lifestyle, Google described the new iteration of its flagship smartphone series as a combination of the "world's best camera" and the "world's most helpful phone".
"Google Pixel 3 is designed from the inside out to be the smartest, most useful device in your life", said Google.
It has a matt finish and all-glass back, in addition to a silky texture that helps minimize fingerprint stains.
It comes in 2 display sizes: 5 1/2 inch Pixel 3 and 6.3-inch Pixel 3 XL – in 3 colours: Black, White and Gold.
With front-facing stereo speakers, they are louder and richer than previous Pixel smartphones.
Google Pixel 3 Camera features
The new camera is more powerful and faster, capable of handling AI-powered HDR photos. A new feature, "Top Shot", allows the machine-learning feature to allow the photographer to save from an alternative list of shots.
Another camera feature announced is "Night Sight" that according to Google, works so well, you would never use your flash again. It improves images drastically using machine-learning in extreme low-light conditions.
"Group Selfie Cam" also offers wider camera shots without a selfie stick or long arms. It offers more details and more scenery once the user zooms out.
Google Lens is now directly integrated into the Pixel 3 smartphone camera thus enabling faster online image search.
Other features include:
Google Assistant: help with real road tasks like making restaurant reservations.
Call Screen: helps with screening and transcribing incoming calls. It can block telemarketers when a call is marked spam.
Titan™️ Security: offers on-device protection for login credentials, disk encryption, app data and the integrity of the operating system.
The Pixel 3 smartphones are offered with a free 6-months YouTube Music subscription.
The Pixel 3 pricing starts from $799 in the United States and would also be available in Australia, Canada, France, Germany, India, Ireland, Italy, Japan, Singapore, Spain, Taiwan, and the United Kingdom.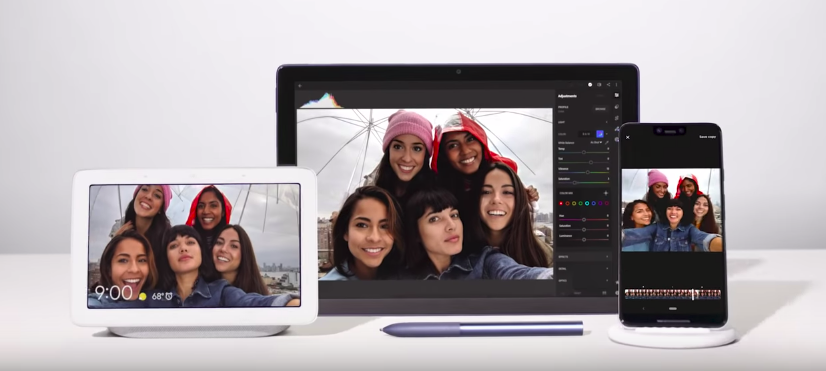 Google Pixel Slate
Designed for work and play, Google announced it was bringing "the power and productivity of a desktop to a Georgia tablet".
Running Chrome OS, it is equipped with 293 pixels-per-inch (PPI), the Pixel Slate is capable of displaying 6 million pixels on the screen at a time. It is capable of displaying images and videos with a very high fidelity. According to Google, the high-quality display was achieved through a "custom display with low-temperature poly crystal and silicon technology which allows for a 100 times faster movement of electrons versus a standard display" thus guaranteeing very high-quality visuals.
The Pixel Slate also comes with two front-facing speakers delivering "surprisingly big sound".
Suitable for cord-cutters, it would come with 3 months free subscription of Google's premium live TV service: YouTube TV.
Google Home Hub
Google Home Hub is described as a smart display for the home that shares needed information as well as serves as the central hub for "managing a connected home from a single screen".
It would retail for a recommended $150 in the United States.