Kenya's tourism industry is back at full steam with earnings from tourism back to where they were before the 2007-2008 Kenyan electoral crisis. I watched Kenya's Tourism Minister, Najib Balala, confirm the growth in an NTV news report a few days ago.
Information available from Kenya's Ministry of  Tourism website further confirms the sharp decline in 2008:
In the year 2008, the  tourism sector in Kenya recorded one of its worst performances ever in real  terms. The dismal performance was mainly occasioned by the post election crisis  and the subsequent travel bans from the source markets. As a consequence, tourism  earnings decreased by 19.2% from Ksh 65.2 billion in 2007 to Ksh 52.7 billion  in 2008.
The tourist industry in Kenya is the second largest source of foreign exchange revenue after agriculture. Kenya's services sector, which contributes about 63 percent of GDP, is dominated by tourism.
The new growth is partly a result of the Obama-effect. According to guardian.co.uk: Barack Obama heritage effect boosts African tourism industry
The 2008 election of Barack Obama, whose father was an immigrant from Kenya, appears to have led to a boom in so-called "roots tourism" among African Americans.

The World Travel Market Global Trends Report 2009 said Obama's election "has resulted in a surge of popularity for Kenya especially amongst African Americans wishing to visit his ancestral village Kogelo where his grandmother still lives".
Everything in this country appear to be geared towards making maximum income from tourism. Visa acquisition is easy and straight-forward. It is even available on-arrival to citizens of several countries. Hotels are in abundance as are the tourist attractions.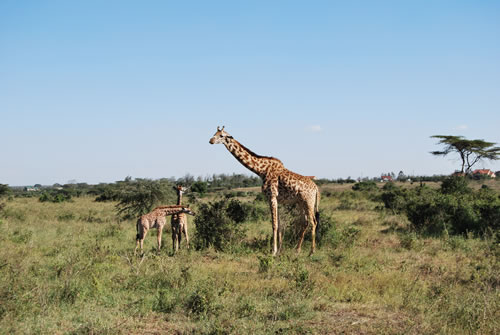 Nairobi National Park
I was privileged to visit Nairobi National Park last Saturday. According to Wikipedia:
Nairobi National Park is a national park in Kenya. It became Kenya's first national park when it was established in 1946. It is located approximately 7 kilometres (4 mi) south of the centre of Nairobi, Kenya's capital city, and is small in relation to most of Africa's national parks. Nairobi's skyscrapers can be seen from the park. The park has a large and varied wildlife population. Only a fence separates the park's animals from the city. Migrating herbivores concentrate in the park during the dry season. It is one of Kenya's most successful rhinoceros sanctuaries.
The park was pretty exciting. My only problems were:
$50 entry fee for non-residents. Kenyans pay something much lower, and in their local currency. The gap is too wide.
Much of the road in the park is un-tarred. This made it very dusty and uncomfortable making one having to hurriedly close the window severally.
I was depressed after the 3 hour-trip because I was not lucky to have seen lions.
In my view, Ghana and Nigeria have a lot to learn from Kenya's tourism industry. I still have much more days here and so would keep exploring the sights and sounds of Kenya.
Recommendations on where to visit are welcomed in the comments area.