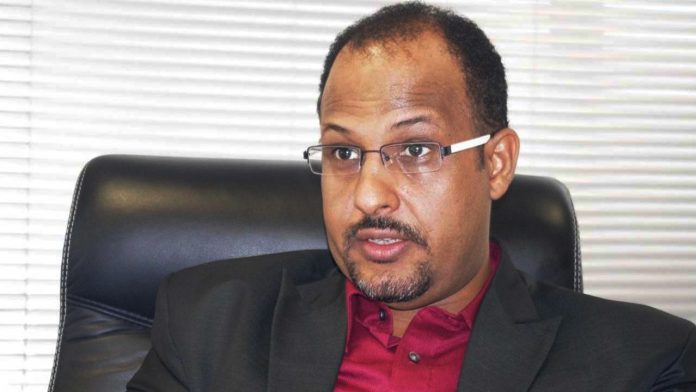 Mr. Rudman has emerged the new president of the Nigeria Internet Registration Association (NiRA). Rudman, who is also the Chief Executive Officer, Internet Exchange Point of Nigeria (IXPN), was announced elected President by Mary Nma Uduma, during NiRA's 11th Annual General Meeting (AGM) in Lagos recently. He takes over from the immediate past president, Rev. Sunday Folayan.
Muhammed Rudman is the pioneer Chief Executive Officer, Internet Exchange Point of Nigeria (IXPN), Nigeria's first and only neutral IXP. A veteran IT professional with two decade years' extensive experience in network design, implementation, optimization and operations.
Before joining IXPN, Rudman had worked with several organizations in technical and managerial capacity including Galaxy IT & T Limited, where he facilitated the deployment of rural telephony project (personal handy phone system), Wireless multipoint and point-to-point for broadband access, Earth Stations for Wide Area Network (WAN) using remote VSAT sites across many Nigerian states and West Africa countries.
He is an active member of several professional organizations within and outside the country, and has contributed immensely to the development of ICT sector in Nigeria.
He served on the Board of Nigerian Internet Registration Association (.ng ccTLD custodians) as the immediate Vice President as well as the Chairman, Communication and Publicity Committee.
Rudman is the Chairman of the Nigeria IPv6 Council, the Council is a chapter of the global IPv6 Forum. The Council is dedicated to the advancement and promotion of IPv6 best practices and lessons learned in Nigeria.
He has severally been engaged as a member of various strategic and policy-making committees across the country. Rudman is a member of the National Broadband Council; The Council tasked with the evaluation, review and monitoring of the National Broadband.
Similarly, Mr. Toba Obaniyi emerged the Vice President. He is the CEO of WhoGoHost.
Two other members were elected into the Executive Board of NIRA, namely Mr Lawrence Olawale-Roberts and Mr. Sola Akinsanya. The electoral Chairperson, Mary Nma Uduma charged them to work closely with the incumbent EBoD members so as to take NIRA to a higher height.
On his part, Rev. Sunday Folayan, expressed gratitude to God for the successes, over the progress that NIRA made during his tenure.
"It is my pleasure, to congratulate the new team that we elected to lead NIRA for the next 2 years. "God will give you all the unction you need to function in the roles you have all been elected to. Amen."
He assured the new leadership of "undivided loyalty and support for you and your team, as you pilot the affairs of our dear Association. May God give you grace, wisdom, courage and all other essentials to be successful."