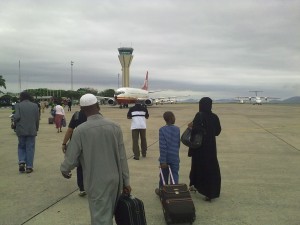 Each time I had a tough time travelling within Nigeria, I always wished there was an electronic Nigerian travel information service that met the needs of the business traveller. A service that offered flight, hotel, car rental information via SMS, mobile web or a full-fledged website. Though there are several websites that offer air travel information, the information they offer is either too scanty or out-dated. I was thus pleasantly surprised when I received a message via email this morning, announcing Text2fly.com.ng I would reproduce the message in full and comment thereafter.
Hi Oluniyi

I just wanted to tell you about Text2Fly – a mobile service that let's you search for flight schedules by sending an SMS that command that sounds like English e.g. "From lagos to abuja on monday at 8am". Your schedules arrive in seconds.

Text2Fly is a Nigerian solution to a Nigerian problem.

The simple task of finding the next available flight is an inefficient and labour intensive undertaking for the Nigerian business traveller. Nigerian airlines don't operate call centres and the Internet is slow. So the business traveller must assign staff to search all airline web sites or even send them to the ticketing office through stifling traffic.

Text2Fly lets you check Nigerian domestic flights via SMS, essentially solving this problem by putting a "travel agent" in your mobile phone.

Text2Fly makes it easy by letting users enter an SMS command that appears to be an English language sentence for example, "From lagos to abuja on friday at 6pm".

The Text2Fly approach to delivering an application by SMS is patented and brand new. In theory it can be applied to searching for train times or bus schedules in busy Western European economies.

Text2Fly has one simple aim – to make air travel in Nigeria much less of a hassle.

If you'd like to find out more please visit text2fly.com.ng
I immediately tried the Text2Fly.com.ng service. The speed of SMS delivery was amazing. The information was accurate too. With this new service, I would no longer have to check multiple websites, just to find the right flight that would meet my needs.
I know several questions would be streaming through your mind right now. The information on their FAQ page shares more information about the new service:
Here's how to get Text2Fly

The 3 most important things you need to know

1. What's the format of the message I send to search for local flight schedules?
Send us your text in EXACTLY this format:

From CITY to CITY on DAY (or DATE) at TIME (e.g from lagos to abuja on monday at 8am)

2. To what number do I send my text message?
+447786201082, please store this number in your phone.

We use a UK number because in Nigeria we'd have to use a short code and charge you a premium from day one.

3. What will this Cost me?
To introduce Text2Fly we're not charging you anything. You pay for your text message and we pay for the reply. Most Nigerian networks charge you only N15 for a text to the UK.

As the number of users grows we may have to limit usage or move to premium charging.

Try Text2Fly today and start enjoying less hassle while you travel!
Since Text2Fly.com.ng is still in beta phase, one can only expect things to get even better.