Virgin Nigeria has been re-branded to Nigerian Eagle Airline. In a press statement released by the management of the airline, the Chief Executive Officer of Nigerian Eagle Airlines, Captain Dapo Olumide said that the birth of the new airline is not just about name change but a new dawn that has birthed an aspirational airline that will rule the African skies and a representation of the future of African aviation.
Beyond the re-branding, there are media reports that Virgin Atlantic (which currently owns 49% stake in the company) would eventually sell its stake. That would bring to an end a long and largely acrimonious relationship between Virgin Atlantic and the Nigerian investors who own the other 51%.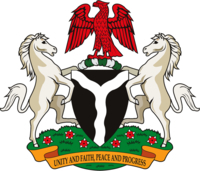 The use of "Eagle" as a symbol is not new to Nigeria:
The coat of arms of Nigeria has a red eagle on top, where it represents Strength.
Eagle Square in the capital city Abuja is where important national events are held.
Super Eagles is the nickname of Nigeria national football team.
Flying Eagles is the nickname of Nigeria U-20 men's national soccer team.
"Eagle" in itself is a good symbol and brand name. It is popularly used by many countries and companies across the world, in their respective corporate logos or national symbols. I assume the board of "Nigerian Eagle Airlines" added "Nigerian" to clearly differentiate it from "American Eagle Airlines (USA), United Eagle Airlines (China) and Golden Eagle Airline (Australia). Another major reason for adding "Nigerian" would be that this airline is supposed to be the national carrier.
I saw aircrafts boldly branded "Nigerian" at Lagos and Accra airports respectively, just last week but did not find a good angle to take photo shots.
Despite the re-branding announcement over 2 weeks ago, their check-in counters at the Abuja and Lagos airports still carry the Virgin Nigeria brand and flight announcements still mentioned "Virgin Nigeria".
What a poor way to re-brand when they could have followed the announcement with new TV/Radio ads as well as changing the brand name on all their offices, desks, counters, website simultaneously. Their small fleet of aircraft can then be re-branded gradually.
In other developments:
Nigerian Eagle Airlines has recently signed a codeshare and interline agreement with Kenya Airways, one of Africa's leading airlines, in other to gain access to each others' routes and services.
The airline recently signed a technical service agreement with Ethiopian Airlines.