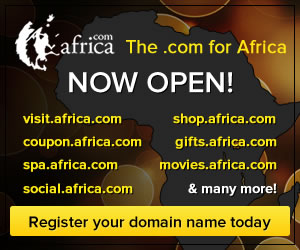 The world's largest and most high profile brands have been among the first to acquire domain names ending with the new extension .africa.com. "In the first few weeks since we started offering domains, trademarks owners have quickly picked up their domains including twitter.africa.com, starbucks.africa.com, ibm.africa.com, evian.africa.com, standardbank.africa.com, lego.africa.com, marksandspencer.africa.com, emirates.africa.com, philips.africa.com, miele.africa.com, and the list goes on and on," says Ope Odusan, Managing Director, Africa.com Domains.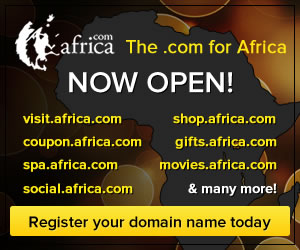 In addition to trademark owners securing their names on the .africa.com domain, a number of savvy investors have also made their claims to buy what is considered the most valuable internet real estate in the world's second fastest growing economic region – Africa. Investors have already purchased premium names including business.africa.com, design.africa.com, capital.africa.com, etc.
Unlike other heavily restricted African domain extensions, domain names ending .africa.com are available to anyone in the world, and are easily purchased online without the need for offline documentation. This is valuable to small businesses, large businesses, bloggers, and individuals around the world who wish to gain access to the rapidly growing African internet market.
In addition, the pricing of .africa.com domain names provides excellent value for money. A domain name on .africa.com is often a fraction of the price of what many African countries charge for their domains, and instead of acquiring the identity of just one African country, owners of .africa.com domains purchase a domain that associates them with all 54 countries on the African continent.
"Our customers are very excited about the .africa.com domain, and we expect to be a large seller of these names into the Nigerian and Ghanaian markets," says Oluniyi Ajao, M/D of Web4Africa, an ICANN Accredited Registrar based in Ghana.
The extension's combination of africa and .com offers the further benefit of global as well as local presence, meaning that unlike any other African domain extensions, websites published on .africa.com will be easily located by both local African and global search engines, ensuring unparalleled exposure and traffic potential for both African websites with a global focus and international companies with an interest in the African market.
About Africa.com
Africa.com, which also operates a successful media company at www.africa.com, is making the cream of domain names available to the public. Grabbing a piece of the best internet real estate in Africa, the world's largest and most visible brands have acquired their names on .africa.com, including twitter.africa.com, starbucks.africa.com, ibm.africa.com, standardbank.africa.com, etc.
.africa.com domain names are available at African and international registrars, including africa.com.