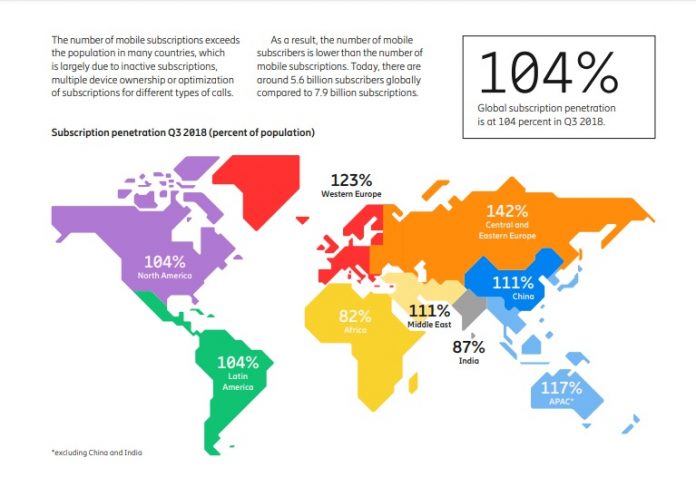 Ericsson expects 40 per cent of the world's population to have access to 5G services by end-2024, with 1.5 billion connections expected to use the new network technology by that date, as revealed in its latest mobility report.
According to the report, comprising projections from end-2018 to end-2024, the vendor forecast there would be a steady rise in a previous prediction that there would be 1 billion connections by end-2023.
The new figure is equivalent to approximately 17 per cent of the world's mobile connections expected at the time. Ericsson, in the report, said North America would be the region with the highest proportion of 5G mobile connections by end-2024, with a 55 per cent penetration rate, followed by North East Asia (43 per cent) and Western Europe (29 per cent).
Despite the rapid uptake rate of 5G, 4G, the report indicated is expected to remain the dominant access technology with 5.4 billion connections by the end of the forecast. Ericsson noted: "5G subscription uptake is expected to be faster than for LTE, which in turn is the mobile communication technology with the fastest subscription uptake so far." It would be recalled that in recent weeks a number of operators have pointed to a lack of device availability holding back 5G commercial launches, especially when quizzed on dynamics in their own markets.
In its report, Ericsson said it expected a "strong" line-up of smartphones supporting the technology to be available in Q2 2019. However, the company warned although 5G would "take off" in 2019, it would not enter the mass market until the following year when "third-generation chipsets will have been introduced and a large number of devices will be available."
By the end of the forecast period, the average data used per smartphone is anticipated to increase by a multiple of four to 21GB per month. Compound global mobile data traffic across all devices is tipped to reach 136 exabytes per month by close of the period, some five-times higher than at end-2018.
The report also notes strong uptake of cellular IoT with global connections moving past the 4 billion-mark during 2024, reaching 4.1 billion by the end of that year. Well over half of these, it added, would be in North East Asia. Western Europe and North America will trail significantly but will still be the two regions contributing the next highest proportion. In a previous IoT analysis, the company said it expected global connections to reach 3.5 billion during 2023.