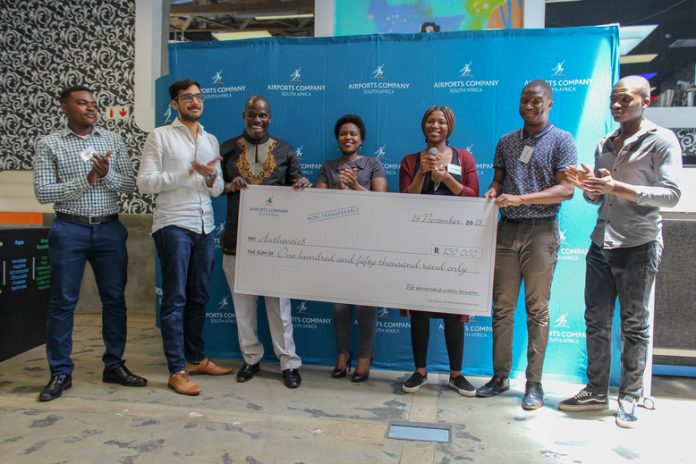 Earlier this year, Airports Company of South Africa and Wits University's Tshimologong Digital Innovation Precinct launched a search for disruptive and innovative developers to come up with a suitable Single Sign-On (SSO) access management system. The winners have now been announced.
Johannesburg based team, Authentic8, was announced as the ultimate winner with its unique identity management authentication solution and team Wakanda, with its "bringing it together" solution, placed second.
Authentic8 delivered a Single Sign-On (SSO) solution, built on the OKTA collaborative development platform. The team received R150 000 and immediately enters a seven-month incubation period at the Tshimologong Precinct to continue developing its solution.
According to Shaun Randles, Enterprise Development Manager, Tshimologong Precinct, the hackathon not only set out to streamline and develop a single system to manage access and authentication for all systems within the Airports Company South Africa environment, but to also discover a new generation of technology-driven skills: "Part of the role of the precinct is to support and grow the next generation of talent. We identified 50 impressive teams through the hackathon process, all of which had innovative solutions to the Airports Company South Africa access management system challenges."
Humbulani Netshieneulu, Airports Company South Africa Socio-Economic Development (SED), Senior Manager, was delighted with the outcome and says the company is excited about the Authentic8 solution: "The prototypes presented by both winners demonstrated an innate understanding of the challenges we face and the best possible solution for our access management. Using a platform for enterprise blockchain, Airports Company South Africa is confident that together with Tshimologong's guidance, Authentic8 will deliver a valuable solution."
Intended to increase trust, efficiency and transparency, the platform was designed to be shared, replicated and is permission based. The Authentic8 team comprising of developers Aaron Rseke, Gift Mogeni and project manager, Mosima Matlhwana, all have diverse technology skills including cybersecurity, virtual reality, robotics, engineering and research. The team, in an immense collaborative effort, developed its unique identity management authentication solution with an aim to fully address the business issues outlined by Airports Company South Africa.
Wakanda presented a solution based on a combination of multiple technologies, which also looked to consolidate the access management system and address all stakeholders.
"Both solutions were forward thinking, utilising innovative technologies that clearly met the brief and addressed the access management system requirements at Airports Company South Africa. We would like to thank both teams for remaining committed to solve the brief and present very compelling solutions to the Airports Company South Africa panel of judges," says Randles.