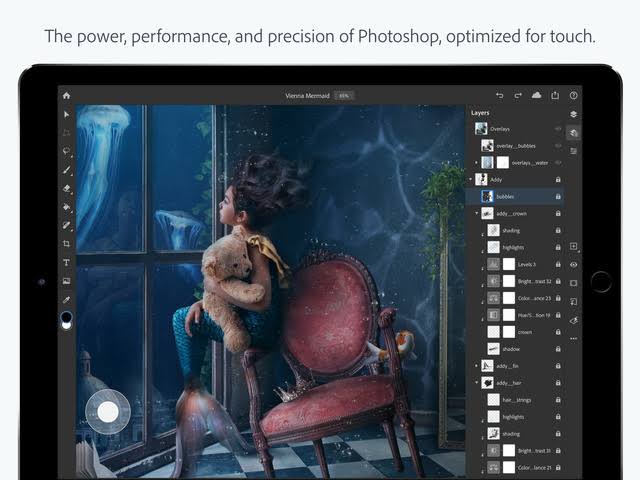 Adobe has released Photoshop for the iPad, having announced that it would be bringing its popular professional photo-editing software to Apple's tablets officially last October.
The company said that it would be launching the app in 2019, and finally released it. Photoshop for iPad is a free download, and includes a 30-day free trial – after that, it's $9.99 per month via in-app purchase for use of just the app, or included as part of an Adobe Creative Cloud subscription.
Adobe had earlier announced that this initial version of Photoshop for the iPad isn't at feature parity with its desktop editing software. It does, however, support Apple Pencil for iPad Pro and more recent iPad models, and it allows editing of PSD files. Adobe says it has focused on features that will benefit from touch and Apple Pencil input on this first release, including "core compositing and retouching tools," with other improvements, including added support of brushes and masks, as well as things like smart selection, to come later.
"Like most Adobe mobile apps, all of your files will be accessible on the iPad through Creative Cloud. This means both PSDs and assets you need to create them will be within reach at all times. The files you create and update with Photoshop on the iPad will also sync to Creative Cloud automatically." Even when you're not online, Adobe says you can continue work and things will sync when you've connected again.
"And just like you see on the desktop, a home screen on the iPad app will offer quick access to files as soon as you open the app. Photoshop on the iPad is available now in the Apple App Store. In order to use Photoshop on the iPad, you'll need to be running at iOS 13.1 or later. What's more, you'll need to have an iPad Pro (12.9-, 10.5- or 9.7-inch models), 5th-generation iPad, iPad mini 4 or iPad Air 2. The software supports both the first- and second-gen Apple Pencil," Adobe said on its website.