Join young Nigerians to demand for a better Nigeria. Find below a release from a youth movement in Nigeria.
Fellow Young Nigerians,
Did you know that in Nigeria, young people are in the majority? Did you know that young people below 35 make up more than 70 per cent of the population? That means that we have the power to actually make things happen!
So how come we are doing nothing about the many problems that have hit our nation in the past few months? Is it enough to make noise on Facebook, Twitter, websites, BBMs, blogs and others where no one is listening? How come it is the Wole Soyinkas, the Femi Falanas and the Tunde Bakares that are fighting for us? Why do we allow ourselves to be branded as the do-nothing generation?
We are going to borrow a quote from the youth wing of the Save Nigeria Group: How can we be so talented individually and yet so disillusioned and disdained collectively? We all know the reason – we have been told a lie that we cannot do anything about the status quo because the cabal is too strong.
We have become cynics and complainers rather than change agents. But the time to "siddon look" is over… Will you stand up and counted or will you stay bound to the tyranny of the present? We have made our choice. We want our country back. And we must get it. It is time for our voices to be heard, and heard loud and long.
Therefore we are organisating a first-of-its-kind rally right there at the seat of power in Abuja. However, this rally is unique because it will be completely powered by young people – young professionals, young celebrities, students, activists etc. We want history to record that this was the point that the young people in Nigeria began to drive fear into the hearts of our leaders and began to make change happen.  It is going to be a MASSIVE rally of hundreds of young Nigerians from across the country saying #enoughisenough!
We invite you to sign up to join this rally now if you are angry about Nigeria.
DATE: TUESDAY, 16 MARCH 2010
VENUE: NATIONAL ASSEMBLY, ABUJA
RALLY TIME: 11AM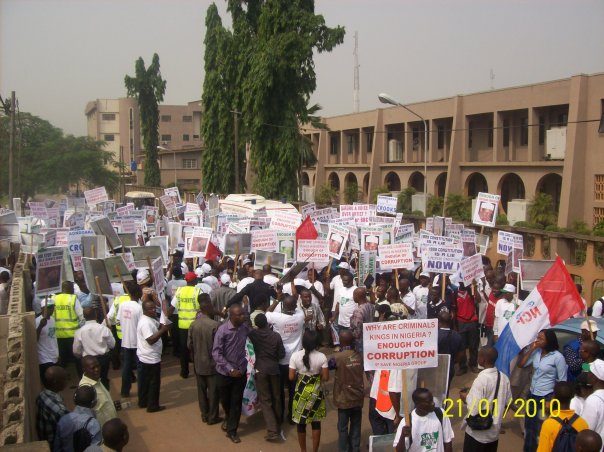 OUR DEMANDS: 1) End the fuel scarcity now! 2) Solve the electricity problem! 3) We want to see our president and we want all those who have been involved in the grand cover up around him to be investigated, arrested and brought to book!
If you want to be part of this movement, register on www.whereisyaradua.com now. The registration form is there, and further information and updates are there.
To get any further information, send a mail to [email protected] and [email protected].
There are cynics who will say it cannot work and nothing will change. They lie! Our history shows that civil disobedience has worked and has forced change. Added to that, after this rally, other activities are planned to keep the government on their toes. However this massive rally to make a statement is the first step.
This is our country; our duty; our future.
Join this movement now!
SIGNED:
Toyosi Akerele (Rise Networks), Audu Maikori (Chocolate City), Chude Jideonwo (The Future Project), Tolu Ogunlesi (NEXT Newspapers) Amara Nwakpa (Light Up Nigeria), Adesubonmi Plumptre, Segun Demuren (EME Music), Al Kassim Abdulkadir, Omena Daniels, Shade Ladipo (Avienti), Bisola Edun (Tae), Alex Yangs (Testify Music), Abimbola Ayorinde, Jibola Ayana Olubiyi, Wale Ewedemi, Cheta Nwanze, Ohimai Amaize (Youth Media Intitiative), Alex Yangs (Testify Music), Adebola Williams (The Future Project), Otoide Ayemere (2digiuts), Ijeoma Okeagu (White Rabbit Concepts), Stanley Vito Achonu, Balkiss Adesokan (Green Nigeria), Aziza Uko, Shade Ladipo (Avienti), Michaela Moye, Onomarie Uriri (BrookStone Consult), Ifedigbo Nze Sylva, Emilia Asim-Ita (The Future Project), Gbenga Sesan (Paradigm Initiative Nigeria), amongst others.
Source: enoughisenoughnigeria.com