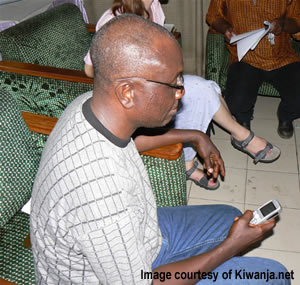 CardBoardFish, the low-cost SMS specialist, today launched FishText, a mobile application that substantially reduces the cost of national and international ad-free texts from a mobile phone. FishText is Java-based and runs on most handsets. There is also a web-based version at www.FishText.com. Both bypass a mobile operator's network and thus enable users to save money for every text message they send.
FishText is free when texting other users and costs from just 1p for all other texts to over 200 countries. After registering, every user gets GBP0.20/EUR0.30 worth of free credit, which is up to 20 free text messages. As an introductory offer until 1 August 2008, FishText users topping up with GBP20 or EUR20 will get their credit doubled, with no expiry date. This will effectively halve the price of all messages, so that texts to South Africa or the US for example will cost just 0.7p.
The only other cost for customers using the mobile application are data charges for the small amount of data used by FishText, which are charged by the mobile operator. Credit, which does not expire, can be purchased on a mobile or via the website by using a range of convenient and common payment methods such as credit/debit card, PayPal or Google Checkout. UK users can also top up via a premium message, and this feature will be available in more countries in the near future.
FishText is ad-free and the recipient will see the sender's normal mobile phone number without any FishText branding. FishText also enables text messages of up to 459 characters and supports the synchronization of the mobile and the web-based application. FishText uses strong encryption to keep customer data safe and secure, both on the mobile application and on the web.
The mobile application can be downloaded at wap.FishText.com and, once installed, can be used for sending and receiving text messages straight away. FishText also provides an optional virtual mobile number for a small fee, allowing users to have a completely separate messaging account and separate mobile phone number without the need for a contract. The virtual number is a UK number, regardless of which country the user is in.
"As SMS specialists we at CardBoardFish have created an SMS solution that bypasses the operator, passing the savings back to the consumer", says Ben Fitter, Director of New Media at CardBoardFish. "There are many expensive contracts offering various bundles of text messages; FishText removes the need for this and reduces costs."