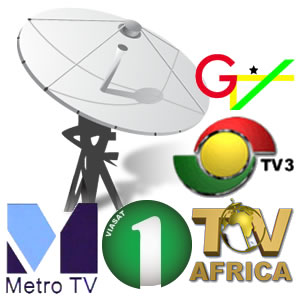 Ghanaians abroad are keen to stay in touch with social and political affairs back home. Some relatively comfortable Ghanaians within Ghana live outside the urban areas, deep in the rural parts. Friends of Ghana living in nearby countries who are interested in following news and entertainment from Ghana. These three groups of people are not covered by terrestrial TV signals from the transmitters of the local free-to-air TV stations in Ghana. Over the years, the main free-to-air TV stations in Ghana have extended their signals to most parts of the ten administrative regions of Ghana, many are still left out. Satellite was the next logical step.
The TV stations went on satellite for two main reasons, I believe:
to relay their signals to their remotely-located TV transmitters in Ghana
to reach viewers in hinterlands and outside Ghana
Find below a list of the Ghanaian TV stations available on satellite:
GTV
GTV (Ghana TV) is the national public broadcaster, run by the Ghana Broadcasting Corporation. It lays claim to covering 98% of Ghana's airwaves. By law it is compelled to reach every nook and cranny of Ghana.
GTV is presently available on 3 satellites:
Eutelsat W4 – through Multichoice Africa (popularly known as DSTV), GTV is available to DSTV subscribers in Ghana only. To connect, simply contact your local authorized DSTV installer as this is a closed system and only DSTV decoders + smart card can decode the signals.
Astra 2B at 28.2°E – [update] Ghana Broadcasting Corporation (GBC) now beams GTV and Uniiq FM to the world on Astra 2B. See How to add more TV & Radio channels to your Multi TV decoder for details.
courtesy of Multi TV, GTV is occasionally available on this service. As Multi TV is still a new service, they reshuffle their channels quite frequently. Multi TV is presently hot in Ghana since subscription is free-of-charge. To get on board, simply contact the nearest Multi TV authorised installer. Read my Early review of Multi TV + Satellite information for detailed information.
Intelsat 903 at 34.5°W – home to several other free-to-air African TV stations, Intelsat 903 hosts GTV's satellite signal. GTV's signal on this satellite is beamed mainly on to Europe, fringes of North Africa and Asia.
Metro TV
A partnership between the government of Ghana and a private entity, Metro TV (Metropolitan Television) was the first Ghanaian TV station to go on satellite, a few years ago and has since been followed by many others.
Metro TV is available on 2 satellites:
NSS 10 at 37.5°W – with a large footprint over Africa, the Middle East and Europe, NSS 10 brings Metro TV closer to billions of people across 3 continents. It is advisable to seek the services of a professional satellite TV installer. If you can get your hands dirty, do the following: Install a 3.2 meter C-Band dish and point it to Satellite NSS 10 at 37.5 degrees west. Using the remote control, tune your decoder to satellite NSS 10 using Frequency 3,804.9965mhz. Add these parameters: FEC: 7/8 SR: 2.143 Polarisation : Horizontal.
Eutelsat W4 – Metro TV is the 2nd Ghanaian free-to-air TV service available on DSTV. To connect, simply contact your local authorized DSTV installer as this is a closed system and only DSTV decoders + smart card can decode the signals.
NSS 7 at 22.0°W – with a large footprint over West, East & Southern Africa, all the 3 next free-to-air Ghanaian TV stations can be accessed on this satellite. NSS7 also hosts 3 of the most popular Ghanaian FM radio stations viz Joy FM, Adom FM and Peace FM. Key coordinates:
Freq – 3739MHZ
Fec-7/8
Pal – V
Cord – 2200 W
Sat – NSS7
SR – 1.755 m/s
A C-band dish and DVB decoder would be necessary. Consult a professional satellite TV installer.
TV3 Ghana
TV3 Ghana is a private, free-to-air television broadcaster in Ghana which is owned by Malaysian media giant Media Prima. It was launched in 1997. Available on NSS 7 and occasionally on Multi TV.
TV Africa
Owned by a popular Ghanaian film maker Kwaw Paintsil Ansah, TV Africa started test transmission from Accra in 2002. The station was officially launched by the President of Ghana on 17th of May 2003. Available on Nss7.
Viasat 1
Viasat 1 is a Ghanaian television channel owned by the Swedish listed media group, Modern Times Group (MTG). Viasat 1 was MTG's first venture in Africa and became the fifth terrestrial television network in Ghana after GTV, Metro TV, TV3 and TV Africa. Available on NSS 7.
As always, additions and corrections are welcome in the comments area. Keep visiting www.davidajao.com!