Nigeria's aviation industry is amongst the largest in Africa. It helps to have a large population, a huge economy and some of Africa's richest people. Despite that, the industry is not where it should be. Poor safety records, occasional fuel supply problems and the current financial crisis for most of the Nigerian airlines don't help matters.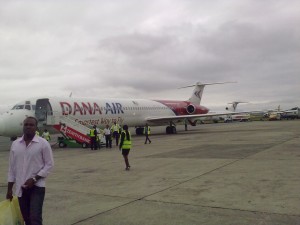 In the middle of the opportunities and problems, a new trend is emerging in Nigeria's aviation industry. Over the past few years, all the major airlines have joined the Internet bandwagon and all have a presence on the world wide web. The serious ones among them even offer online booking, complete with online payment and issue e-tickets as a result. Nigerian Eagle Airline (formerly Virgin Nigeria) even offers online check-in.
So you want to fly within or out of Nigeria the smart way? Read on…
1. Find your flights electronically using flight comparison services: You can check for flight availability using services like text2fly.com.ng or kayak.com and you can compare prices using 1spotsearch.com These services aggregate flight data from various airlines, and present the information in a easy-to-use format for you the user. You are thus in a better position to make informed choices where time and cost is critical.
2. Book for your flights online: You cannot enjoy the full value of finding your flights electronically if you do not book online. To be reading this blog, chances are that you can browse websites un-aided. Simply head to the website of the airline you have decided on. All the leading airlines in Nigeria today run an e-commerce website that enables you to find, book and pay for flights online. All you have to do is print the e-ticket delivered to your email inbox and head to the airport for check-in when your booked flight is due. If you do not have access to a printer, the airline would gladly print out your e-ticket for you, at the airport.
3. Look out for promos: Perhaps in a bid to attract people to booking online, some airlines have been announcing promotions that are available online exclusively:
A few months ago, Aero Contractors was offering a special discount for all its domestic flights. The special price was N5,000 only. The catch? You have to book and pay online.
Dana Air offered its Lagos to Abuja flights for N9,000 only, a few weeks ago. I tried it out, with a lot of scepticism considering that Arik Air and Nigerian Eagle Airline were offering the same flight for N16,000. The flight was just your normal domestic flight and I did not detect a comprise in the quality of service.
Arik Air is presently offering Lagos – Johannesburg – Lagos flights for about 70% the fare of its nearest rival.
To mark their 1st year anniversary, Dana Air would be offering another round of promotional air fares very soon.
The promos offer much need cost savings. To find them, simply check the respective website of the airlines or the dailies especially when major festivities or holidays are approaching. Whilst hopping onto the promos, look-out for the limitations. Terms and conditions almost always apply.
Some Nigerian airlines that offer scheduled passenger flight bookings via their websites, in alphabetical order:
Aero Contractors – http://www.flyaero.com/
Arik Air – http://www.arikair.com/
Bellview Airlines – http://www.flybellviewair.com/ (presently on life-support; NCAA has suspended its flights. I only listed it because it is not yet officially defunct. Promises to resume flights on 1st December 2009)
Dana Air – http://www.flydanaair.com/
Kabo Air – http://www.kaboair.com/
Nigerian Eagle Airlines – http://www.virginnigeria.com/