Google Plus is Google's latest and best attempt at a social networking website. It obviously draws a lot of lessons from Google's previous attempts like Google Buzz, Google Wave, Orkut etc.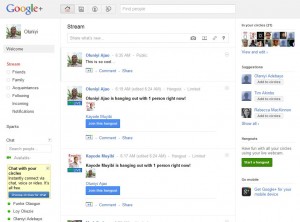 I got an invitation to join Google Plus from a good friend, and I am loving it so far. It comes with a lot of features that scream "Facebook-lookalike" while other features are new innovations from the search engine giant. I like the minimalist interface as well.
It segments the social networking into sensible groups like: Friends, Acquaintances, Family etc. One can rename the groups or create new ones. Thus, it is possible to share information with a specific group without sharing it with the entire internet. In a nutshell, it appears to offer better privacy controls.
Google Plus is accessible to the mobile devices on the following platforms via a web app: Android, iPhone, BlackBerry, Nokia/Symbian and Windows Mobile. Understandably, a native app is already available for Android 2.1 devices.
Since Google Plus is currently in Beta phase, joining the party is strictly by invitation. If you want to try-out Google Plus, simply leave a comment in this blog post or email me. I will invite as many people as I can, to join the Google Plus party.
Update: Google has closed off invites after just a few hours. Demand was "insanely high," according to Google SVP of Social Vic Gundotra. I suggest you visit http://plus.google.com and just sign-in with your Google Account.
If you are on Google Plus already, add me to your Circle of Friends or Acquittance, depending on who I am to you.