.gh is the country code Top-Level Domain name (cc-TLD) for the Republic of Ghana.
Introduced in 1995, it is currently managed by a private company in Accra Ghana. This company sponsored the .gh domain with ICANN (the international body for managing domains) and currently serves as the registry and registrar, simultaneously.
Although .gh is intended for use by entities in Ghana, it is poorly patronized due to poor awareness on the part of the populace, high pricing of domain registration and the avoidable bureaucracy on the part of the current registry.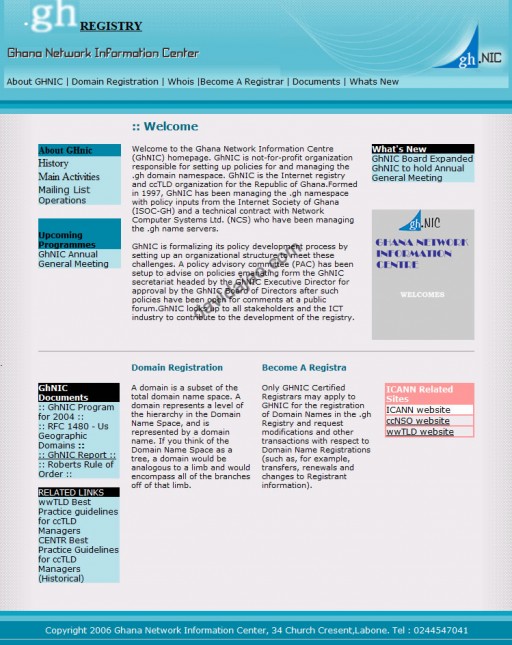 .gh has gone through years of difficulties and all domain management is currently done manually by the registry. It doesn't help that a .com.gh goes for at least $42.66 from the .gh registry while one can register a .com for as low as $12.
To be fair, most other African domains have been in this poor state at various stages in the past but many have since reformed and are currently growing at blazing speed. These are a few examples of the African country domain systems that are currently world-class: .ke (Kenya), .tz (Tanzania), .cm (Cameroon), .ng (Nigeria), .mu (Mauritius), .na (Namibia), .za (South Africa), .so (Somalia) etc.
.za (South Africa) is peculiar because although it is semi-automated, it is currently the largest domain system in Africa by far, with well over 500,000 domains registered. No other African country domain comes close.
.so (Somalia) is even more peculiar because the country is essentially a failed state, yet it has a world-class domain registry – never mind that the .so registry managed by a private Japanese company on behalf of the government of Somalia. At least, the domain system is fully automated. I was able to register a .so domain for a client a few weeks ago with a few clicks of the mouse.
.GH Domain Reform
The good news is that the .gh domain system is currently under-going a reform. In August 2010, the Government of Ghana set-up an organization named National Information Technology Agency (NITA) whose mandate includes setting-up a new .gh domain name registry.
I was privileged to attend the 5th Annual African ccTLD Event in April 2011 here in Accra, where a NITA member shared the progress and time-line of the .gh domain reform. He concluded by hinting that the new .gh system would go live before the end of 2011.
It is safe to assume that the new .gh domain registry would be a world-class & fully automated registry that would accredit independent .gh domain registrars. With the right policies, .gh can still regain lost grounds in Ghana's internet arena.
It is estimated that there are close to 3 million Internet users in Ghana. Ghana is home to the first Internet Service Provider in West Africa and has a population of over 24 million people.