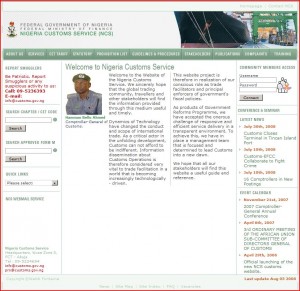 I came across the Nigeria Customs Service website a few weeks ago and I think it is worth mentioning as I consider it the most professional website of a Nigerian government agency. It is commonplace to see websites of Nigerian government agencies shabbily done. The official portal of the Federal Government of Nigeria www.nigeria.gov.ng is a mess today. Since that of the  this is well done, it deserves a mention. I give it an appraisal for several reasons:
Domain Name: It uses the perfect domain name which is customs.gov.ng
This not only shows at first glance that it is a Nigerian government agency website, it also short and memorable.
Look, feel and layout: Though the website width does not fit perfectly into a 800×600 pixels computer screen, its font face, font sizes, font colours, are simple and clean.
Navigation & Links: Not only are the navigation links well-arranged, the drop-down menu at the top makes accessing every web page easy and straight-forward. Although the Site Map is not functional, the Site Index gives an alphabetical overview of the key pages in the website.
Not surprisingly, the website is developed by a Swiss-based company Webb Fontaine Holding S.A based in Geneva.