My arrival in Lagos Nigeria a few days ago coincided with the new wave of enforcement by the Federal Road Safety Commission (FRSC) regarding motorcycles in Nigeria. Unsurprisingly, most affected by this revived enforcement have been the commercial motorcycle operators popularly referred to as "okada". According to news reports, thousands of them have been arrested and fined nationwide since 1st January 2009 for failing to comply with the rules.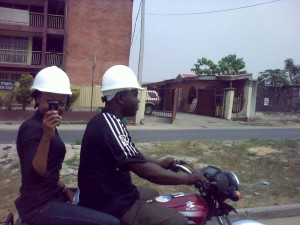 Nigeria is a country with multiple grievous national problems and the lack of an efficient metropolitan transport system created a loophole that the okada operators have exploited but their activities have largely been unregulated. Now that FRSC is trying to enforce some existing rules, they are crying foul and complaining that the government is help-bent on pushing them out of business.
Nigerians are used to problems and have become masters at improvising in the face of lack or difficulty. I was thus not very surprised that most of the okada riders have only been pretending to comply with the new enforcement of a law which  states that they must wear a crash helmet and insist that their passenger [if any] wears one as well at all times. I have been seeing all sorts of helmets that are anything but motorcycle crash helmets: construction worker helmets (this is the most common), bicycle helmets, cycle racing helmets, soldiers' helmets etc. The okada operators insist that they cannot find the helmets to buy, or the ones they find are too expensive. Of course, helmets that are not designed for motorcycle riders cannot protect the riders effectively in the event of a crash.
When a close friend suggested that we might find someone using a calabash as helmet, I chuckled partly because I knew it could be true, and partly because it was so far-fetched and absurd. Nothing prepared me for what you see in the photo below:
Someone described the photo as Nigerian ingenuity but I think it is insanity.
Other issues that have cropped-up include the concerns about hygiene since so many people would be sharing the same helmet. Another concern about the possibility of people disappearing after wearing a helmet due African voodoo is nonsensical.
My point is simple, if okada must exist, the operators must be closely monitored and rules enforced. It is in the interest of the segment of the public that patronizes them.
Since this is my first blog post in 2009, may I wish my readers a Prosperous New Year 2009.