This is a reference post. I would refer anyone who questions my patriotism, to this post.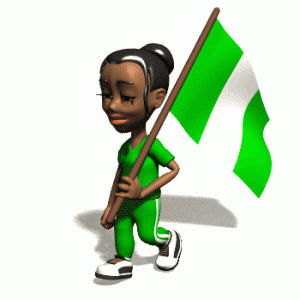 Regular readers of this blog would have noticed the occasional posts I do about the poor state of affairs in Nigeria. I raise the issues and share my candid views about them. I hold the view that I should be very frank and truthful as much as possible. I would rather not write, than write to paint a false picture of affairs. My candid posts have obviously not sat well with those who think it is unpatriotic to write what they consider uncomplimentary commentary about one's country.
The following comments have one thing in common:
In reference to President Obama in Ghana. Why not Nigeria? Yemi sent me an email:
Mr.Ajao,

Its very suprising that instead of you to use your handwork to promote your fatherland encourage others to do the same, you are using your hand to disgrace and put shame on your own country.

Nigeria is my country and he will always be.I am not a bastered that will say anything against my beloved homeland. Because you are enjoying free Ghana girls and other things you don't have advantage back at home,that is why you are writing rubbish to gain cheap popurlarity here in Ghana.I am disappointed in you.But you are here in Ghana, have not you see Ghanaians negative ways of life too?No wonder Ghanaians hate us so much because of what they are hearing from you faceless fake-nigeria(s).Cheap man.
In reference to Light Up Nigeria! Paul Adep left a comment on my Facebook profile:
Nigeria is not a failed state and it will never be brother. You empasize so much about "light"? Businesses are running fine and they didnt complain about light, they are even proud to expand their scope beyond Nigeria market. Our national athem is now GENERATOR and that is what almost everybody is using.
To put things into perspective, there is a culture among the Yoruba (a large ethnic group in West Africa) that forbids one from "pointing to one's family home with a left hand". To the best of my understanding, it implies not behaving publicly in a way that brings one's family name into disrepute and has little to do with hiding facts.
Democracy is a collective effort. It is necessary for citizens to point out what they want fixed about their nation. It is the duty of the political leaders to fix the problems. Nigeria operates a republican system of government, and not a monarchy. The President of Nigeria and other members of the executive arm of government, the legislature and even the judiciary are not immune from criticism. Nigeria is in a deep mess at this time and it is necessary for the citizenry to demand the best from the leaders. Nigerians do not deserve anything less.
Adding my voice to the millions crying for a better Nigeria cannot amount to being unpatriotic. Rather, painting a falsely glamorous picture or worse-still keeping mute would be. Next time you read me complain about something to do with Nigeria, know that I do not hate Nigeria nor Nigerians. Rather, I love Nigeria and want the best for the country.
I will not pass judgement on the two comments I shared above. I leave that to you, Dear Reader.