Ghana's premier and leading GSM network, Spacefon Areeba soft-launched its GPRS offering and made it available to a few subscribers, on a beta test. The author is oppurtuned to be among the selected few. This article seeks to a sneak preview into what is coming.
Acquiring the service
Spacefon Areeba announced on Joy FM's Super Morning show, its new GPRS offering and entreated subscribers to register for their on its web site: www.spacefon.com I did so, after two weeks and wait ed…
The online form basically requested for information about the subscriber: Name, Address, Number, Travel destinations within Ghana and Phone model.
After waiting for over a month, I received a phone call from Spacefon Areeba's head office with a request that I reported at their office the following day. I did. A gentleman at the customer service configured my Nokia 7250i within minutes.
The internet connection was however down, when he finished configuring the phone, and activating the SIM card. The phone kept displaying "Page not found" after several attempts to view WAP pages. He assured me that it would be on again in a few minutes. This turned out to be true as I was soon surfing WAP pages soon after I left the Spacefon Areeba head office.
He also printed out some WAP sites that I could surf, for me. How nice of him. 🙂
Requirements
To use the GPRS, the subscriber must have a GPRS-enabled phone. A GPRS PC card can be used if the subscriber intends to connect a laptop computer.
The subscriber's SIM card has to be activated for GPRS by the service provider. (Spacefon Areeba in this case)
Setting up my laptop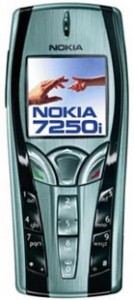 I spent the next couple of days trying to figure out how to connect my laptop to the Internet via this GPRS. My Nokia 7250i comes with Infra-red (Irda) connectivity and so does my sub-notebook computer, Toshiba Portege 3490CT.
Connecting the phone to the laptop via infrared was done in no time as I had read the Nokia's manual, extensively. I also gathered useful information from internet Web sites I followed the steps below:
I downloaded the software for my Nokia 7250i from the Nokia web site: www.nokia.com The software is required, for the phone to be able to act as a modem through which the computer would connect to the Internet.
Installed the software on my Toshiba portege 3490CT laptop.
Opened Network Connections from the Control panel. I use Windows XP SP1, by the way.
Under Network Tasks, I clicked on Create a new connection.
The dialing number (phone number) for Nokia cell phones is *99#
After setting up the dial-up connection, I double-clicked on the Connection's icon and was connected within 15 seconds.
Toshiba Portege 3490CT
The Firefox browser I used worked fine, when I configured the Network connection as "Connected directly to the Internet".
Availability
The GPRS has been available since then despite outage for a few days into the new year 2005.
It works best from 10PM till 8AM on weekdays and Sundays from 9AM to 12PM when obviously Spacefon Areeba's network has substantially lower voice traffic. Technically, the amount of voice traffic on a mobile phone network at any given time, affects the quality of service for GPRS. Voice is given priority over data traffic. Thus, using GPRS on a congested network during peak hours is quite an ordeal.
Usability
The service is generally good for normal web browsing. The speed is comparable to that of the conventional dial-up though it can be much faster when the network is not congested. I tested the speed, using a Firefox plug-in I downloaded on Firefox's web site and the indicator was 20kbps. When downloading, the speed falls substantially to 2kbps. It works fine with MSN Messenger, YAHOO! Messenger, FTP, Outlook Express and all other software that depend on an Internet connection, on my laptop.
Browsing WAP pages on my mobile phone is also seamless but depends on whether the network is congested or not.
Downsides
The service usually becomes very slow or completely off, on weekdays, from 4:30PM to around 9:30PM due to network congestion. Calling around this time on Spacefon Areeba is also hectic.
Summary
The service is good for occasional email and general browsing when you are out and about. Web sites heavy with Flash animations should not be attempted at peak hours, as it could take forever to download. It is not a service for the heavy internet user as billing is likely to be per Mb and could eventually dig a deep hole in your pocket.