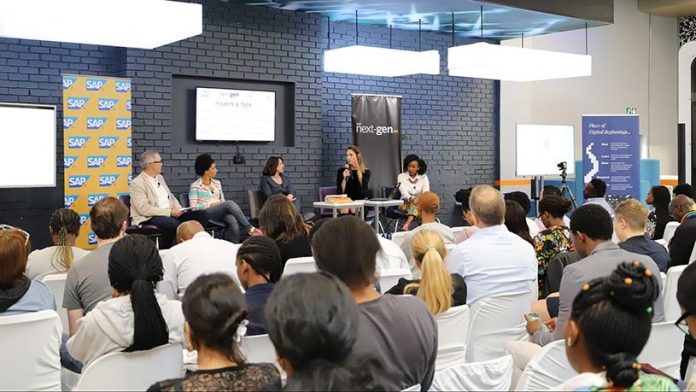 Global start-up support initiative, Startup Guide, has partnered with SAP Next-Gen and Tshimologong Precinct to bring its entrepreneurship book project to the Johannesburg innovation ecosystem.
According to Sissel Hansen, Founder and CEO of Startup Guide, South Africa's largest city is emerging as a key innovation hub for startups. "Johannesburg has recently emerged as a growing ecosystem for startups and entrepreneurs in Africa, particularly in the tech industry. We're thrilled to have the opportunity to create a comprehensive guide of resources for aspiring founders wanting to do business in South Africa's largest city."
Startup Guide Johannesburg was launched at Wits University's Tshimologong Precinct, one of Johannesburg's newest high-tech addresses in the vibrant inner-city district of Braamfontein. Tshimologong, which means "new beginnings" in Setswana, focuses on the incubation of digital entrepreneurs, commercialization of research and the development of high-level digital skills for students, working professionals and unemployed youth.
Lesley Williams, CEO of Tshimologong Precinct, says: "South Africa is fast becoming a go-to source for innovation, especially in the tech sector. We believe the introduction of a dedicated resource for the startup ecosystem in Johannesburg will unlock significant opportunities for innovation hubs such as ours to more easily connect with entrepreneurs, experts and other roleplayers, ultimately providing a more supportive environment for growth."
Startup Guide has partnered with SAP Next-Gen, a purpose-driven innovation university and community for the SAP ecosystem enabling companies, partners and universities to connect and innovate with purpose linked to the UN Sustainable Goals for Development. Ann Rosenberg, Senior Vice President and Head of Global SAP Next-Gen says: "We strive to connect digital innovators in an open innovation community to drive the future success and growth of industries through the use of technology.
As we have witnessed in other high-innovation cities around the world, the introduction of knowledge resources – supported by opportunities for collaboration and partnership in an open ecosystem – enhances the overall success of entire startup communities. Johannesburg's world-famous energy and business acumen will greatly benefit from the launch of Startup Guide Johannesburg and the support of industry partners, including SAP Next-Gen and the Tshimologong Precinct."
Cathy Smith, Managing Director of SAP Africa, adds that the partnership with Startup Guide aligns well with the company's commitment to the UN Sustainable Development Goals. "As an organisation, we are committed to achieving the high ambitions set out by the SDGs. However, it is virtually impossible to do so alone: the concept of partnership with likeminded purpose-driven organisations and initiatives is vital not only to realise the SDGs but to foster a greater and more inclusive innovation ecosystem in Johannesburg and across the African continent."
Founded in 2014, Startup Guide is a creative content and publishing company that produces guidebooks and tools to help entrepreneurs to connect to communities and resources in the leading startup cities around the world. Its global footprint covers some of the most innovative and thriving startup ecosystems in the US, Europe and the Middle East, including those of London, New York, Berlin, Tel Aviv, and Stockholm. After launching in Cape Town earlier in the year, Startup Guide now moves to Johannesburg.