Vodafone Ghana has signed a $120 million technical agreement with Huawei Technologies Company Ltd to provide 3G technology for its Onetouch mobile service.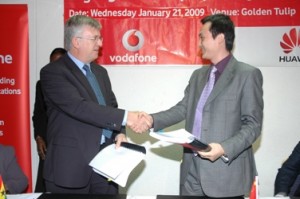 Mr. David Venn, Chief Executive Officer of Ghana Telecom Company and Mr. Jay Xu Junjie, of Huawei Technologies signed for Vodafone Ghana and Huawei Technologies respectively.
Vodafone last year acquired 70 per cent shares in Ghana Telecom.
The contract is one of a series that Vodafone Ghana plans to sign with partner organizations over the next couple of months to provide equipment and service.
The technology will significantly enhance network quality and increase customer satisfaction on the Onetouch network. It will enable  customers enjoy ultra high-speed internet access and the ability to make video calls, use rich multimedia content on their handsets including the ability to send video clips and music at the touch of a button.
The expansion of the network to is expected to be completed within the next 18 months.