…..as African Mixtape website is launched with endorsement from artists
PRESS RELEASE: Johannesburg, 24 November 2010 – Mixtape culture has enjoyed a resurgence in the past few years as artists look for ways to reach their fans directly in an increasingly crowded online marketing environment. The Mixtape has also become an innovative way for artists to debut new material and gauge fans reaction without going through the bureaucracy (and cost of course!) of launching a new album. It's not unusual for globally renowned Hip Hop, Rap & R&B artists to release a string of Mixtapes with new material that is only available online for free.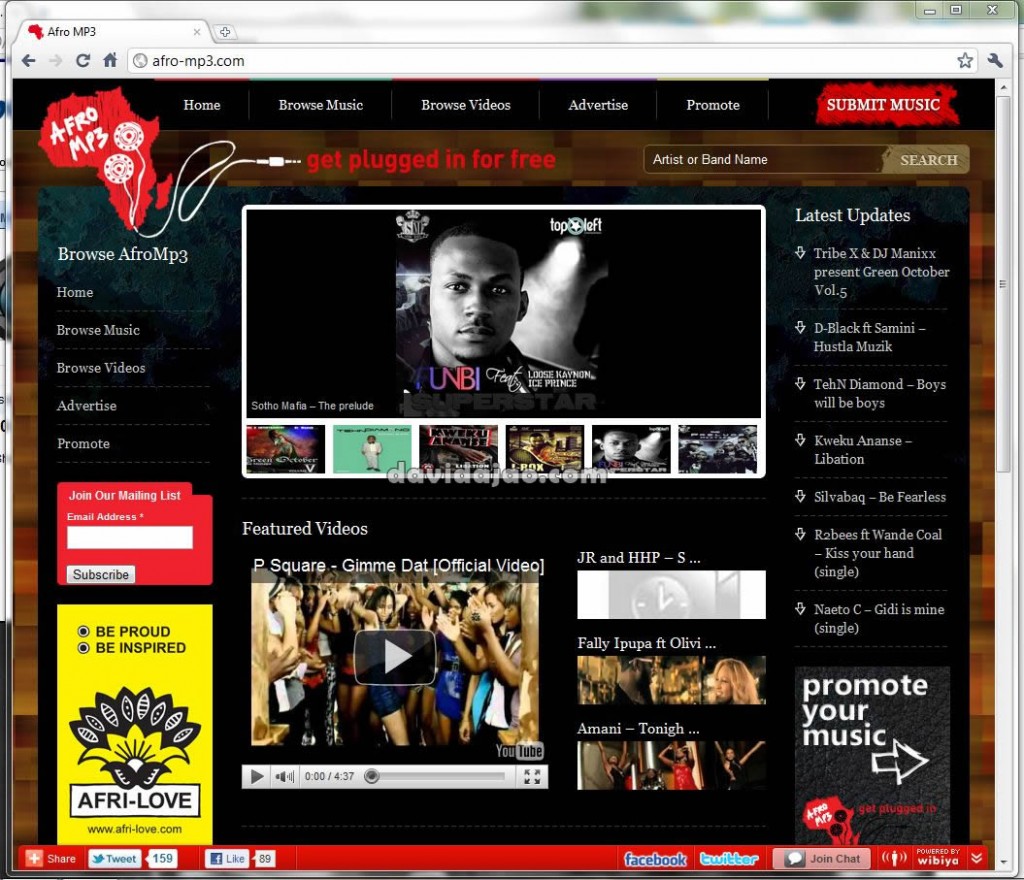 The global impact of Hip-Hop music on popular culture has been well documented with Africa producing its distinguished breed of Hip Hop artists. Despite the Pan-African and at times global profile of these artists, the Mixtape culture is only beginning to take off on the continent. With Africa becoming one of the fastest adopters of internet in the world combined with a growing diaspora and global interest in the sub-genres that Hip Hop and Rap have spawned, the market for music from and inspired by the continent can only continue to grow.
It is with this in mind and the lack of a central location for those on the continent and the in the diaspora that Afro MP3 (www.afro-mp3.com), a website for promoting African music from all genres music was established. With Mixtapes and music videos drawn from a diverse roster of artists across the continent, ranging from HHP in South Africa, 2Face in Nigeria and K'Naan from Somalia, the website allows visitors free and legal downloads from some of the hottest acts on the continent.
Commenting on the website launch co-founder Mutsai Musa said "with the direction that global music distribution is going it only makes sense to have a large online presence and reach the widest audience possible. Combining the internet with the culture of free music allows us to expose those who are willing to share their music with the world at no cost to them." Fellow web-site founder, Tapiwa Chimboza adding to Mutsai's comments said "having lived in the diaspora for many years I know how difficult it can be to get hold of the latest music from African artists regardless of the genre. With so many portals catering to different audiences we want to be able to work with all these existing sites to make one location that people can come to get the latest music or work as a stepping stone to existing sites. The second phase of our project will offer music for sale via digital downloads. We're in talks with the record companies and once we have something that everyone is happy with we'll be launching the second part of our project."
About Afro MP3
Afro MP3 was founded by high school friends Mutsai Musa and Tapiwa Chimboza. Avid music lovers and always on the lookout for something new, they saw music distribution gaps in the African music market. African music is often placed in the 'World Music' box when it is not only about traditional instruments and vernacular languages. It is just as progressive as music from any other region in the world. In 2010 there has been a huge emphasis on Africa and the unexplored aspects of its music. Contemporary African artists such as K'Naan, Nneka, Blitz The Ambassador and Fokn Bois, among others, have taken the world by storm with their music and this has opened the gates, so to speak, for upcoming artists to showcase similar music and genres. Afro MP3 creates a platform strictly for African music that celebrates our diversity and unity as Africans and creative progressiveness.
What is a Mixtape?
A Mixtape is a compilation of previously unreleased and soon to be released material, put together in anticipation of an official commercial album. They are often a platform that urban musicians use to experiment and gauge the potential response to their upcoming body of work, and also to increase the hype and stay relevant. Artists often release Mixtapes in between official albums as a way of staying in the public arena, often using familiar instrumentals. it has become a tool for urban artists to reinterpret songs from their perspective, taking familiar instrumentals and changing or adding to their meanings. They are not meant to be an affront to copyright control but rather a celebration of diversity of urban music and reinterpretation of popular music cultures. For this reason, Mixtapes are designed to be free.
In the last few years, mixtapes have gained momentum, not only as a creative outlet but also as a means of promotion and with the freedom of communication afforded by the internet, artists have been able to launch their careers from the mixtape world without being signed or having an actual album out. Releasing such projects on the internet costs far less than physical product and makes sense, especially because there is no monetary exchange expected.
More information, contact: [email protected]