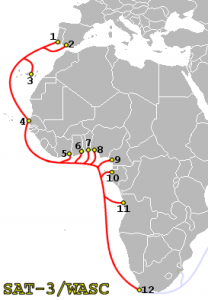 It appears Internet connectivity on the African continent especially in Ghana and Nigeria is about to get better soon. The Ghana News Agency (GNA) reports the launch of yet another private effort to improve Internet connectivity in Africa:
Work has begun on a 200-million dollar undersea fibre optic cable, which aims to provide reliable Internet and telecommunication services to industry stakeholders across Ghana and Nigeria.

The project being undertaken by Main One Cable Company will help to minimize the difficulties of switching traffic between African countries and eliminate the inconveniences and added cost of first routing traffic to Europe.
More information:
The company has already begun laying the cables, which will run from Portugal to Ghana and Nigeria to enhance efforts to digitally connect Africa with the rest of the world.

Speaking at a press briefing in Accra to officially announce the commencement of work, Ms Funke Opeke, Chief Executive Officer of the company said the first phase of the project is expected to be completed in May 2010.

The first phase spans 6,900 kilometres extending from Portugal to Ghana and Nigeria with an additional 6,000 Kilometres extension to South Africa and Angola in the second phase.
This is not exactly the first effort. I am aware that Globacom Ltd, the second national operation (SNO) in Nigeria is currently building a similar cable through the Atlantic from Nigeria, through Benin Republic, Ghana, Senegal, Portugal, to the United Kingdom. Globacom's fibre optic network is called Glo-1 and expected to be commissioned for commercial activities in March 2009.
Other fibre optic cables are in the pipeline for West Africa:
The West African Festoon System, a Telkom-led project to link SA with Nigeria to address capacity problems on the existing Sat-3 system.
The Africa West Coast Cable, an SA-led initiative to build a cable system between SA and the UK along Africa's west coast. The high-speed system is meant as a replacement to Sat-3, which is expected to reach capacity in the next few years.
These optic connections are very important for Africa because only one active fibre optic called SAT-3/WASC (South Atlantic 3/West Africa Submarine Cable) serves West Africa presently. Too many Internet users especially in Nigeria, access the Internet through independent satellite connections (VSATs) and this creates a big problem as even local traffic is routed through Europe, North America or even South-East Asia. With more fibre optic connectivity options for West Africa, I expect that more businesses/organizations/ISPs would eventually move away from VSAT. I also expect the fibre optics to be connected at some point, through an Internet exchange. At that point, real Internet would have been coming to Africa.