My closest shave with Badagry had always been when I travel by road through the town on my way into/out of Nigeria. My impression had always been of a small town, but it turns out Badagry has a lot to offer tourists. I always knew that the first storey building in Nigeria was built in Badary, and that the first Bible translation into Yoruba language was done in Badagry by Bishop Samuel Ajayi Crowther. I was taught those basic facts in elementary school.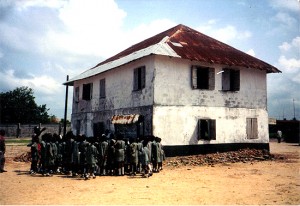 I just monitored a TV programme titled "African Pot" on Africa Magic right now. African Pot is anchored by Shimire Katung and it covers different areas of food and lifestyle in villages around Africa. This week's episode of the programme features Badagry. It was indeed an eye opener for me to see Badagry like I had never seen it before.
Badagry is a border town in the South-West corner of Nigeria. It is the first town a traveller comes across when travelling into Nigeria by road, through the main border post at Seme. The town has a population of about 240,000.
The history
Badagry it turns out, was a major slave port in the past. Many Europeans used the town as a transit point for onward delivery to the "New World". As a result, many of the relics of slavery are still kept for tourists in Badagry. Many of the chains, graves, and other infrastructure that supported the slave industry are still intact in the Badagry museum. The programme also featured some African Americans who had visited Badagry to take part in the local festivals.
The religion
Badagry also served as the first point at which European missionaries interacted with the people of modern-day Nigeria.
Fun
There are other tourist attractions in Badagry for those who just want to catch their fun. I have often heard about Badagry beach and how nice it is. I look forward to visiting that beach this year. The TV programme also featured Whispering Palm Beach Resort, a privately-owned relaxation centre.
In a nutshell, the town of Badagry is worth visiting for those in search of history, or those who just want to get away from the hustle and bustle of city life.
Have you explored Badagry or intend to? Please share your thoughts.