Clearly, all is not well with Virgin Nigeria. Being a VN frequent flyer and a fan of Richard Brandson, I have always monitored the progress of Nigeria's national flag carrier. There are various accounts as to the true state of affairs but it is obvious that the centre is not holding.
"Virgin Nigeria Airways Limited is a Nigerian airline that operates scheduled international, regional and domestic passenger services. Its hub is Murtala Mohammed International Airport (LOS) of the Lagos area. The airline is a replacement for defunct Nigeria Airways. Its registered office is in Ikoyi, Lagos State, while its head office is on the 9th floor of Etiebets Place in Ikeja, Lagos State." – Wikipedia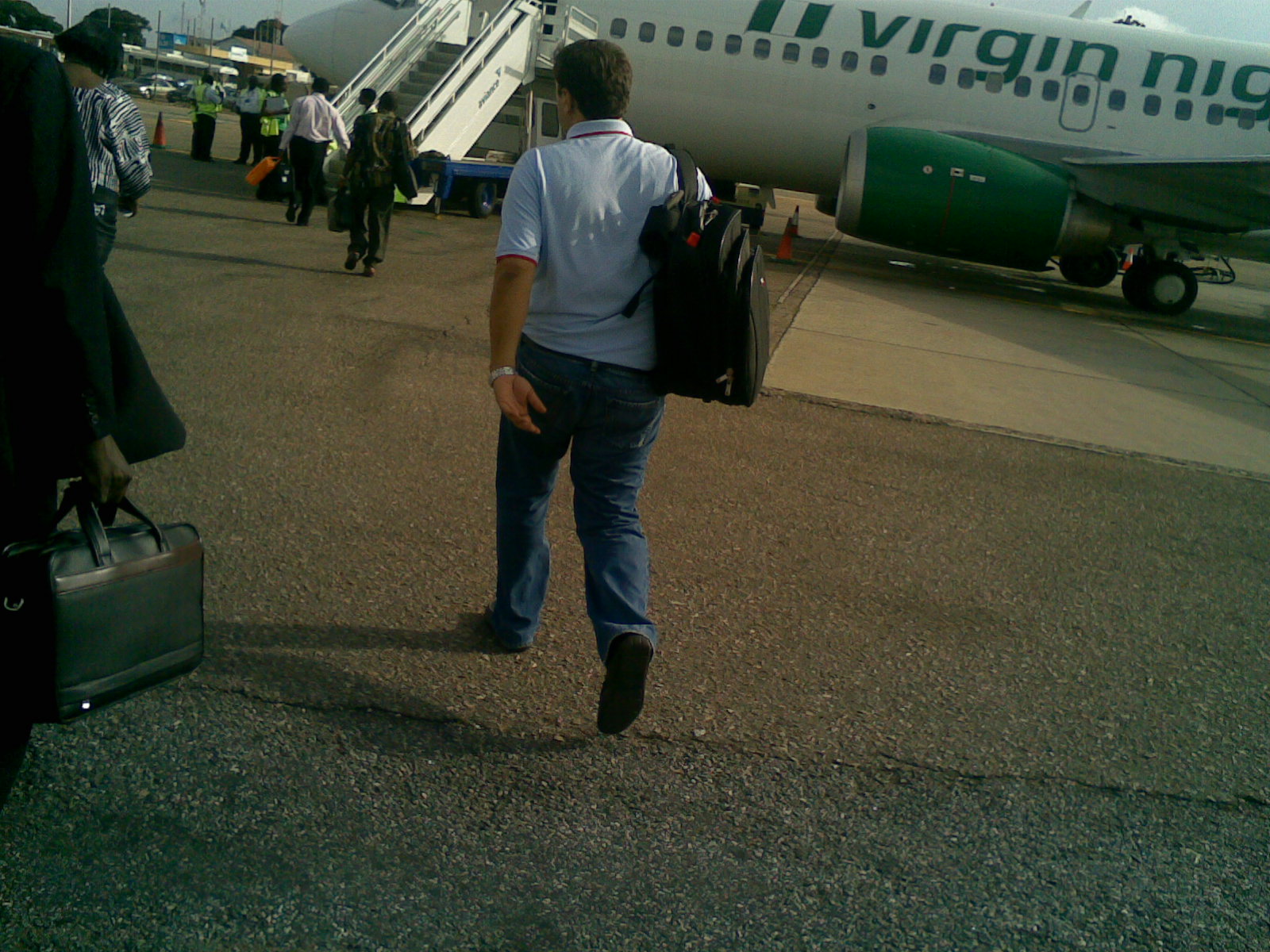 The drama started after the exit of Olusegun Obasanjo from the Presidency of Nigeria. The new government through the aviation ministry, ordered all airlines to stop using the international terminal of Muritala Mohammed International Airport in Ikeja (Lagos state, Nigeria) for  domestic flights. The airlines complied with the exception of Virgin Nigeria. It soon degenerated into a row between Richard Branson and the Federal government of Nigeria. He accused the government of using "mafioso tactics" in reference to hammer-wielding men sent to demolish the Virgin Nigeria domestic desk inside the international terminal while the government accused him of  "orchestrating negative propaganda".
Eventually, Virgin Nigeria moved. The fallout from that dispute is that on 19 August 2008, Virgin Atlantic announced that it was "in talks to sell it's 49 percent stake in Virgin Nigeria". It is also reviewing "whether it is appropriate that the Virgin brand should remain linked to Virgin Nigeria".
These are my reasons for wondering if Virgin Nigeria is cracking up:
(i) When VN announced the "suspension" of its flights to London (UK) and Johannesburg (South Africa) respectively in January 2009, I only saw a crack in their stability. Their explanation "our focus is on consolidating and continuing to expand our profitable domestic and regional flight operations" was doubtful, to me. This by extension implies that their medium term plans for offering direct flights to the United States are on hold as well.
(ii) Following Virgin Atlantic's decision to pull out, there are strong indications that the airline would be de-branded as early as July 2009. In essence, the Virgin brand would be replaced. A newspaper report by Daily Independent the airline is likely to merge with a local carrier. That doesn't sound good.
(iii) The CEO and many other top officials of the airline resigned en masse in May 2009. From a ThisDay newspaper report:
Ever since Virgin Nigeria Airways (VNA) announced the suspension of its long-haul flights from Lagos to London and Lagos to Johannesburg, its fortunes have gone from bad to worse. The once proud airline, credited with upping the ante and setting new standards for domestic air travel in the country, is about to lose six members of its senior management staff comprising executive directors and other senior executives.

Some of them were seconded to the Nigerian airline by Virgin Atlantic Limited (VAL) under a Technical Services Agreement (TSA).

The top executives who have resigned their appointments with effect from this month are the Managing Director/CEO, Conrad Clifford; Chief Operating Officer, Kevin Dudley; Director of Safety, Alistair Henry; Director of Ground Operations, Yves Gilbert; Director of Maintenance, Jim Barnes; and Mr Ronnie Classen who also was contracted to the airline in an executive capacity.

Yesterday, the airline announced that the Deputy Managing Director, Captain Dapo Olumide, will become the new Chief Executive Officer on June 18, 2009.
(iv) It's current shareholding is not clear. There are indications that UBA owns a sizeable share of Virgin Nigeria though the leading bank denies this.
Is the picture entirely gloomy for Virgin Nigeria? Far from it. The airline has been quietly moving along:
(i) It has taken delivery of new, modern aircraft. One could say the agreements for these aircraft delivery were signed before now, when the team from Virgin Atlantic were still at the helm of affairs. What matters is that the airline has added Embraer 190AR (Advanced Range) and Embraer 170AR aircrafts to its fleet to service its national and regional (West African) routes.
(ii) The airline now flies into more regional destinations. Direct flights to Banjul (The Gambia) would be offered this June while flights to Dakar (Senegal) are now more frequent.
VN launched direct flights between Accra (Ghana) and Abuja (Nigeria) last May. This would be a blessing for travellers who had hitherto had to fly through Lagos (Nigeria). Air travellers in southern Ghana travelling to northern destinations in Nigeria can now fly directly to Abuja and proceed on their journey from there. What makes this a bigger deal is that before now, there had been no flights on the Abuja – Accra – Abuja route by any airline. Linking the two national capitals would thus make travelling easier for diplomats, top government officials and businessmen.
In summary: I had some confidence in the airline because of the involvement of Richard Branson and his Virgin Atlantic team. Now that Virgin is pulling out, I am sceptical about the sustenance of Virgin Nigeria. It might just be headed for the grave like the defunct Nigeria Airways having been cannibalized by corruption.
What are your views about Virgin Nigeria and its recent challenges? Kindly share your views here and now.