Aero Contractors in my view is a budget airline only that it is not so-called. The airline has been advertising very low fares to all its destinations, for some time now. I dragged myself into flying Aero twice in recent times, to satisfy my curiosity on how they could offer such low fares. This blog post is based on what I could see as a passenger who has no expertise in aviation.
Aero Contractors (Aero Contractors Company of Nigeria Ltd) or simply "Aero" is an airline based in Lagos, Nigeria. It operates domestic and international scheduled services, air taxi, charter and third party aircraft operations, largely in support of Nigeria's extensive oil and gas industry. Its main base is Murtala Muhammed International Airport, Lagos.
The Premise
Aero offers such low airfares at this time, it is alarming as to how they achieve this considering that some of their fares are less than 50% that of their leading competitors – Arik Air and Nigerian Eagle Airline – especially on the Lagos – Accra – Lagos route. Take the up-coming flights as outlined in the following table as a case study.
Lagos to Accra – One Way flights for 18th March 2010 as advertised on the respective websites of the airlines
Airline
Fare in Nigerian Naira
Equivalent in USD
Source
Aero
NGN 7,612.85
$50
flyaero.com
Nigerian Eagle
NGN 30,653.00
$201.32
virginnigeria.com
Arik Air
NGN 32,249.00
$211.80
arikair.com
From the above information, Aero's flight costs only 23.6% that of Arik Air and only 24.84% that of Nigerian Eagle.
How do they pull it off?
The following factors are those I have observed. I do not have access to their maintenance logs and thus unable to comment on aircraft maintenance, staff remuneration and other hidden factors.
1. Book & Pay over the Internet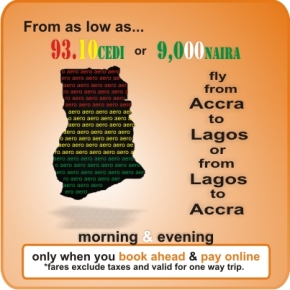 Aero places a lot of emphasis on direct sales of tickets over the Internet thereby avoiding fees and commissions paid to travel agents and computer reservations systems. The very low-fares they offer would not be possible without the Internet. Thus, their radio ads are geared towards directing potential passengers to their website flyaero.com
Booking can be completed online with payment via four methods:
Interswitch: Nigeria's leading ATM/debit card network and payment processor
Etranzact: another local payment gateway available in Ghana and Nigeria
Book On Hold for Ghana only: potential flyers can book for a flight and place it on hold for 24 hrs and then pay at any UBA branches in Ghana.*
Book On Hold for Nigeria only: potential flyers can book for a flight and place it on hold for 24 hrs and then pay at any Oceanic Bank branches in Nigeria.*
*To pay through the bank, booking should be for a flight at least 48 hours ahead.
2. Hidden Fees
When booking for a Lagos – Accra – Lagos flight, you would be faced with an optional "International Insurance" cover fee costing N1,500 ($9.85). From their website:
Insurance (International) This covers for flight cancellation and holiday packages for passengers travelling into and out of Nigeria only.charges on this cover is based on per persanger per day.
Please note that it is not possible to change date, destination or name of passenger once the insurance has been purchased. Standard and Deluxe insurance is only available to people who are resident or domiciled in Nigeria.
Adding the "Insurance fee" to your booking would push your fare upwards to N9,112.85
Note, the Insurance fees is available to domestic flights as well.
3. In-flight meals need to be paid-for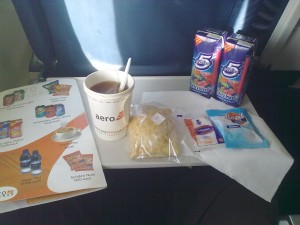 Aero last year introduced the idea of passengers paying for refreshment mid-flight should they want any and gave it a fancy name, Aero Sky Snax. From their website:
In Flight Meals-aero Sky Snax
With effect from 16th November, 2009 aero begins sale of a variety of affordable mouth watering snacks, soft drinks and beverages on-board for your enjoyment.
The upside about paying for the meal is that the passenger is not compelled to pay when he/she is not in a position to eat. Also, the passenger can order for the quantity of snacks that is really enough to satisfy unlike the little appetizers typically offered by the other airlines.
The downside is, any passenger willing to eat but without extra naira in his/her wallet would fly hungry. Aero does not accept card payments mid-flight.
4. Minimal uniformed staff
Aero, from the flights I have taken, maintains very few uniformed staff. The check-in staff in Murtala International Airport (MMIA) Lagos and Kotoka International Airport (KIA) Accra are contracted from another company that offers those services. This would aid their cost-saving and low-fares drive.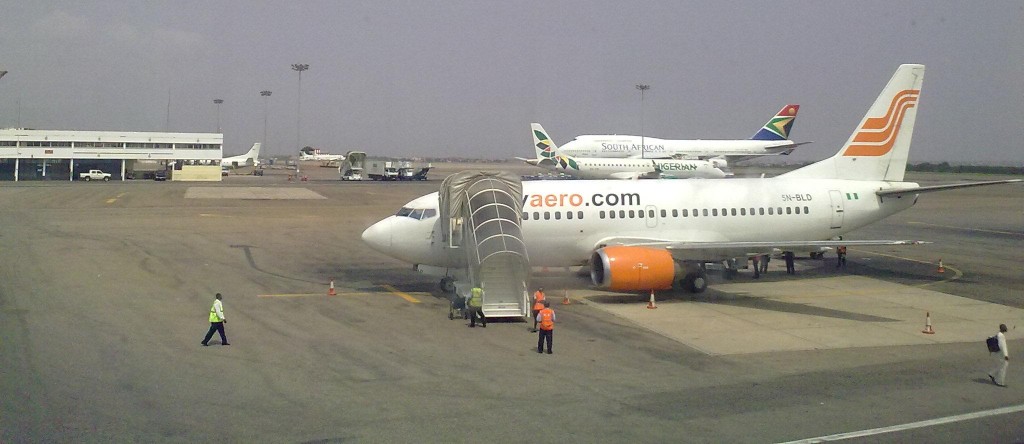 5. Shared Office
Though Aero maintains a full office inside MMIA fully manned by its own staff, it shares a ticketing cubicle with Arik Air inside the departure hall of KIA.
6. Tickets are non-refundable and non-transferable
Aero offers no refunds or transfers to later flights in the event of missed flights, i.e. if the aircraft leaves on time without a passenger who arrived late, he will have to buy a wholly new ticket for the next flight.
7. No frequent flyer programme
Unlike Nigerian Eagle, Aero does not offer any frequent flyer programme and thus all the money that would have been invested in running such a programme are saved. The passenger can thus apply the saved funds to other things.
It is also important to note that Aero's fares typically increase as the plane fills up. Thus, the low fares are only guaranteed for early reservations. Also, the GHC25 airfare Aero is presently advertising in Ghanaian newspapers exclude taxes and so many other fees.
Should you have additions or questions, do well to leave your comments in the comments area.