I could easily write a damning report on Nigeria's local movie industry, known as Nollywood. This is because most of the movies churned out are very mediocre in many ways. It is heart-warming to note however, that out of the ashes of mediocrity, many straight-thinking individuals within Nollywood are raising the standards to new heights.
I have watched a view outstanding Nollywood movies in recent times, and just noticed an upcoming one titled: IJE. Produced by Xandria Productions, it features 3 of Nollywood's best – Genevieve Nnaji, Omotola Jalade Ekeinde, Clem Ohameze – among others.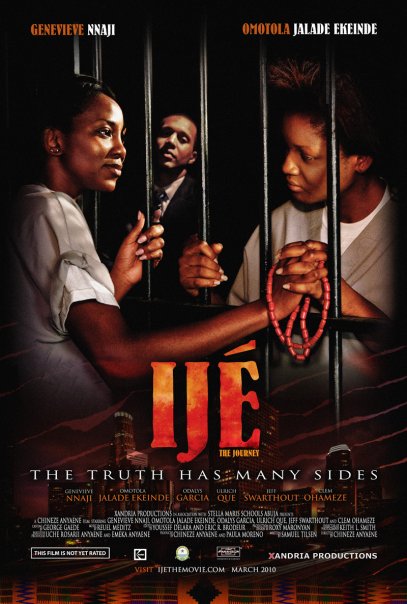 According to naijagal blog:
"IJE tells a tale of Chioma, a child growing up in the Nigerian countryside, who warned her restless sister, Anya, about the trappings of the American Dream. Now ten years later, Anya is accused of killing three men in a Hollywood Hills mansion—one of them her record producer-husband. Chioma travels from Nigeria to Los Angeles, and with the help of a young, unproven attorney, discovers that the dark secret her sister wants to keep hidden might be the only thing that can win her freedom."
The movie would be released in March 2010. I certainly look forward to watching IJE.